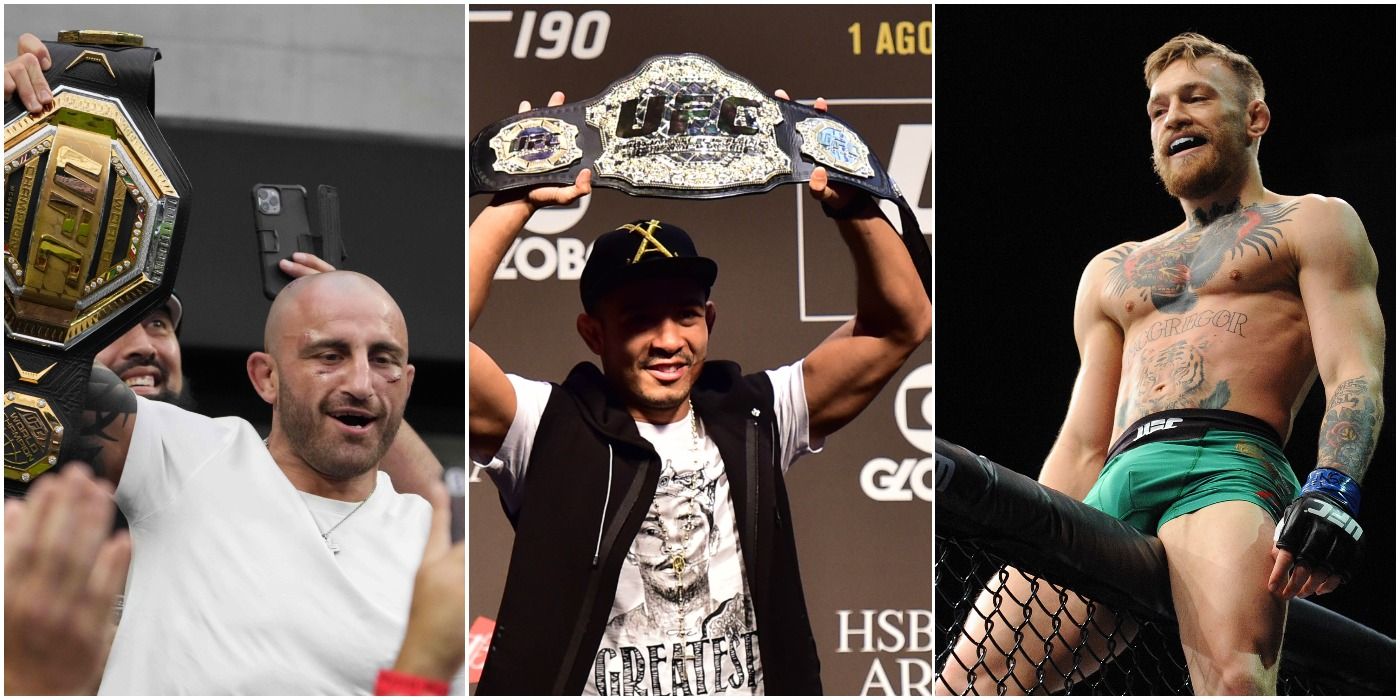 In 2011, the UFC absorbed the featherweight division from World Extreme Cagefighting (WEC), which had previously been the home to the best lower-weight MMA fighters in the world. Since then, the 145-pound division has been one of the most exciting weight classes in the entire UFC. The division started with a dominant champion who seemed unbeatable. The division was then taken over by possibly the most charismatic fighter of all time. From there, lethal strikers have taken over the division, and once again, a dominant champion is sitting on top of the division.
RELATED: Ranking Every Women's UFC Champion From Worst To Best
Over the past 10 years, many of the best pound-for-pound fighters in the UFC have come from the featherweight division. However, these specific fighters have stood out above the rest for the past decade.
UPDATE: 2023/11/15 18:00 EST BY ETHAN SCHLABAUGH
After Dana White needed to be convinced that a featherweight division would be marketable, the company now has a legacy in the division with names like Connor McGregor and Jose Aldo, who have been vital to the promotion. With the many names that have competed and been a major part of the division, it's time to rank some of the greatest and see where they stand against each other in the history books. Let's take a look at what they did for the promotion, the division as a whole, and some of their best fights for fans to go back and see. Here are the great featherweight fighters in MMA.
10
Chan Sung Jung Was Underrated
UFC Career (2011-2023)
| Record | Championship(s) | Great Fight |
| --- | --- | --- |
| 17-8 | N/A | Vs. Max Holloway UFC Fight Night 225 |
Since the division first debuted in the UFC, "The Korean Zombie" Chan Sung Jung has been a constant threat in the weight class. Jung arguably had the most impressive debut in UFC history. In March 2011, Jung won his first UFC fight with a twister submission hold. With his submission-of-the-year victory, Jung immediately let UFC fans know he was one to watch.
Since then, Jung has earned victories against some of the toughest names in UFC history, including Frankie Edgar and Dustin Poirier. The Korean Zombie recently ended his career by having a retirement match against Max Holloway at UFC Fight Night 225. Holloway earned a third-round KO and both men earned a Fight of the Night award.
9
Yair Rodriguez Can't Wait For Some Gold
UFC Career (2014-PRESENT)
| Record | Championship(s) | Great Fight |
| --- | --- | --- |
| 15-4-1 | 1x Interim Featherweight | Vs. Jung Chan-Sung UFC Fight Night 139 |
Since 2014, Yair Rodriguez has gone from being an exciting prospect in the UFC to one of the featherweight division's top contenders.
Rodriguez started his UFC tenure with six straight victories. This win streak was highlighted by a dominant performance against former UFC champion BJ Penn. In his last five fights, he has achieved a record of 2-2 with one no-contest. Rodriguez has earned notable wins against Chan Sung Jung and Jeremy Stephens. In eight of his fourteen UFC fights, Rodriguez has earned a Performance of the Night or Fight of the Night award.
8
Chad Mendes Knocked Down The G.O.A.T.
UFC Career (2011-2018)
| Record | Championship(s) | Great Fight |
| --- | --- | --- |
| 18-5 | N/A | Vs. Jose Aldo UFC 179 |
When the UFC first brought the featherweights to the UFC, Chad Mendes was among the top prospects in the division. At the start of his career, Mendes won his first 11 fights, the last two were in the UFC. This win streak earned him a title fight against then-champion Jose Aldo. In 2012, at UFC 142, Mendes looked impressive in the first round of his title fight but was knocked out in the final second of the fight.
RELATED: Conor McGregor Vs Chad Mendes (& 9 More Star-Making Performances In UFC History)
Mendes did not allow this loss to hinder his career. He went on to win five fights in a row inside the octagon in order to earn another title fight. However, Mendes was unable to defeat Aldo in their rematch. After this loss, Mendes went 2-3 in his last five fights before retiring from the sport.
7
Frankie Edgar Is A 3 Division Legend
UFC Career (2007-2022)
| Record | Championship(s) | Great Fight |
| --- | --- | --- |
| 24-11-1 | 1x Lightweight | Vs. Jose Aldo UFC 156 |
Former UFC Lightweight Champion Frankie Edgar also found quite a bit of success in the featherweight division. Edgar worked as a featherweight from 2012 to 2020 before being moved to the bantamweight division, where he ended his career. He also had a decent run in the lightweight division, where he captured some gold.
After losing the lightweight title in 2012, Edgar dropped to 145 pounds and immediately challenged for the featherweight title. Despite losing a decision to Jose Aldo, Edgar went on to win eight of his thirteen fights in the division. At featherweight, he earned notable wins against Cub Swanson, Chad Mendes, BJ Penn, Charles Oliveira, Urijah Faber, and Yair Rodriguez.
6
Brian Ortega Will Be Crowned Champion
UFC Career (2014-PRESENT)
| Record | Championship(s) | Great Fight |
| --- | --- | --- |
| 15-3-1 | N/A | Vs. Alexander Volkanovksi UFC 266 |
Today, Brian Ortega is one of the most dangerous fighters in the UFC. In his eight UFC victories, seven of them have come by knockout or submission.
Ortega has picked up impressive victories against the likes of Frankie Edgar, Clay Guida, Cub Swanson, and Chan Sung Jung. His only losses have come against Max Holloway, Yair Rodriguez, and current UFC Featherweight Champion Alexander Volkanovski. However, Ortega earned "Fight of the Night" honors in two of his losing efforts.
5
Urijah Faber Helped Start The Division
UFC Career (2010-2019)
| Record | Championship(s) | Great Fight |
| --- | --- | --- |
| 35-11 | WEC Featherweight | Vs. Jens Pulver WEC 34 |
While his career as a featherweight took place outside the UFC, Urijah Faber played a major role in the division being brought into the UFC. Prior to 2011, lighter weight classes, like featherweight and bantamweight, were not in the UFC because of the preconceived notion that the lighter fighters did not draw an audience. However, Faber proved that was not the case when he was the WEC featherweight champion.
Faber's popularity, along with Jose Aldo's dominance as champion, led to the only pay-per-view in WEC history. Faber lost a decision on that night in 2010 and moved to the bantamweight division. Faber would go on to fight one time as a featherweight in the UFC, but he lost a decision to Frankie Edgar.
4
Conor McGregor Was The Face Of The Company
UFC Career (2013-PRESENT)
| Record | Championship(s) | Great Fight |
| --- | --- | --- |
| 22-6 | 1x Featherweight, 1x Lightweight | Vs. Jose Aldo UFC 194 |
Possibly the most charismatic fighter to ever step into the octagon, "The Notorious" Conor McGregor, began his UFC career in the featherweight division. In 2013, McGregor debuted in the UFC and took the featherweight division by storm. On his journey to earning a title shot, McGregor earned victories over notable names such as Dustin Poirier and Max Holloway.
RELATED: Conor McGregor's 5 Best UFC Performances (& 5 Worst)
In 2015, McGregor won an interim UFC featherweight title by defeating Chad Mendes by technical knockout at UFC 189. Later that year, McGregor shocked the world when he knocked out Jose Aldo in just 13 seconds to win the undisputed UFC Featherweight Championship. After winning the featherweight title, McGregor left the division, vacated the title, and has yet to fight at 145 pounds again.
3
Max Holloway Keeps Going
UFC Career (2012-PRESENT)
| Record | Championship(s) | Great Fight |
| --- | --- | --- |
| 25-7 | 1x Featherweight | Vs. Brian Ortega UFC 231 |
Since 2012, Max Holloway has been a constant threat in the UFC featherweight division. He has fought 18 times at 145 pounds inside the octagon and is a former champion. After suffering a loss to Conor McGregor in 2013, Holloway won nine fights in a row in order to earn a championship opportunity. In 2016, Holloway won an interim featherweight title after defeating former UFC Lightweight Champion Anthony Pettis by technical knockout.
Holloway went on to win the UFC Featherweight Championship by defeating Jose Aldo by knockout. He defended his title three times by defeating Aldo in a rematch, Brian Ortega, and Frankie Edgar.
2
Alexander Volkanovski Is Making History
UFC Career (2016-PRESENT)
| Record | Championship(s) | Great Fight |
| --- | --- | --- |
| 26-3 | 1x Featherweight | Vs. Brian Ortega UFC 266 |
Current UFC Featherweight Champion Alexander Volkanovski might have what it takes to be the greatest featherweight fighter in the history of the division. Volkanovski is undefeated in the UFC with 10 wins. Overall, he is on a 20 fight win streak with an MMA record of 23-1. On his route to becoming a UFC champion, Vokanovski earned impressive wins against Darren Elkins, Chad Mendes, and former UFC Featherweight Champion Jose Aldo.
At UFC 245, in 2019, Volkanovski won the championship from Max Holloway. Since then, he won a rematch against Holloway and is coming off a decision win against Brian Ortega back in September. Alexander is still making history and has almost caught up with Jose Aldo in number of title fights in the featherweight division.
1
Jose Aldo Is The G.O.A.T.
UFC Career (2010-2022)
| Record | Championship(s) | Great Fight |
| --- | --- | --- |
| 31-8 | 2x Featherweight | Vs. Chad Mendes UFC 179 |
Former UFC Featherweight Champion Jose Aldo's resume as champion makes it hard to argue that he is not the greatest featherweight of all time. Aldo won the WEC Featherweight Championship in 2009. He defended the title twice before the UFC absorbed the division and Aldo was made the inaugural UFC champion at 145 pounds.
As UFC champion, Aldo holds the record for the most consecutive title defenses in the division with seven. His most notable title defenses came against Chad Mendes, Chan Sung Jung, and Frankie Edgar. Due to McGregor never defending the title, Aldo won an interim championship and was later promoted to the undisputed championship. Aldo would go on to lose the title to Max Holloway and decided to move to the bantamweight division. Aldo's career came to an end after a loss to Merab Dvalishvili at UFC 278, and he was later inducted in the UFC Hall of Fame.