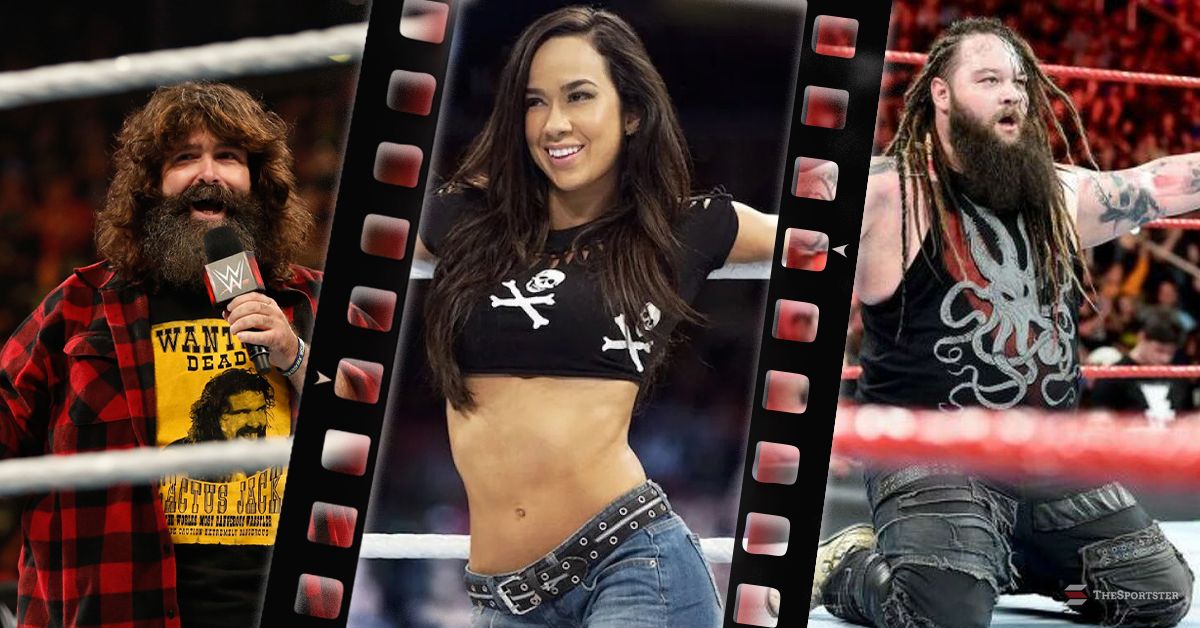 The Rock, Batista, and John Cena have all become legitimate actors over the years, to the point where they are better known for that in the eyes of many people. Professional wrestling trains wrestlers perfectly to enter that field due to the need to improvise and portray a character. Still, certain wrestlers would have been better off being actors instead.
RELATED: 7 Wrestlers Who Had A Better Acting Career Than A Wrestling One
While this doesn't mean they were poor professional wrestlers, it's simply that they are excellent at the entertainment side of the business. Whether it be cutting promos, creating unique characters, or showcasing real creativity, certain wrestlers would have been huge stars in the acting world.
10
Bray Wyatt's Creativity Would Flow
Active Years Wrestling: 2009 – 2023
Former WWE Champion
Two-time Universal Champion
Former WWE SmackDown Tag Team Champion
Bray Wyatt had a brilliant wrestling career, holding multiple World titles as he proved to be a true main-event star. While he could perform well inside the ring, the reason he was so captivating was his creativity, which truly knew no bounds. Wyatt created incredible gimmicks that were unique and always showcased real personality and charisma.
His promos were very engaging and over the years he showcased a real range of emotions which is why he'd have been an amazing actor. It's something that Wyatt was looking to get involved in too, with Freddie Prinze Jr. having penned a role specifically for him in an independent movie he was working on.
9
William Regal Knew How To Play A Character
Active Years Wrestling: 1983 – 2013
Appeared on "The Weakest Link"
Two-time Intercontinental Champion
Four-time WCW World Television Champion
William Regal always was a great technical wrestler, but the thing that made him stand out was the small details he put into everything he did, particularly through his facial expressions. Whether he was snarling as a heel or pulling a face to make people laugh, Regal always proved to be entertaining.
RELATED: 10 Weird William Regal WWE Moments We Completely Forgot About
The Englishman was always happy to make fun of himself at the expense of others which is why he was able to be involved in some hilarious moments over the years. He would have been brilliant as an actor adding in those qualities, had he gone down that path.
8
Karrion Kross Has A Commanding Presence
Active Years Wrestling: 2015 – Present
Two-time NXT Champion
#16 in the PWI 500 in 2021
Former Lucha Underground star
Karrion Kross might be currently active in the wrestling world, but he would still have been better suited to being an actor. Kross has a real presence about himself, putting in some fantastic details into his character which helps people become engrossed in what he has to say during his promos.
People can often end up tuning out when it comes to his matches, as they tend to be much slower. However, Kross' ability to capture attention, cut great promos, and create engaging characters would make him a great actor, which he could tap into one day down the line.
7
Alexa Bliss Has Charisma
Active Years Wrestling: 2013 – Present
Competed On "The Masked Singer"
Appears In the Bowling For Soup music video
Three-time Raw Women's Champion
Alexa Bliss has enjoyed a lot of success as a wrestler and she is very athletic inside the ring. However, Bliss is brilliant at injecting elements of personality and character into everything she does, whether it is portraying a classic bully or a slightly demonic character.
Bliss seems to enjoy that element of the business, and that is something that could have worked well in terms of being an actress. She would have had a lot of fun in that world, but of course, there is still time for her to make the transition.
6
Drake Maverick Has Comedic Timing
Active Years Wrestling: 2001 – 2021
Two-time TNA X Division Champion
Eight-time 24/7 Champion
Appeared on the "British Boot Camp" reality series
Drake Maverick is a good wrestler, but he has primarily been used as a comedic talent throughout his career due to how entertaining he is. Maverick was able to inject a lot of charisma and energy into everything that he did, and that is how he was able to get over it throughout his career despite being smaller in size.
When Maverick ended up being released from WWE it was his emotional videos that saw him brought back as he spoke from the heart. He has always had genuine acting skills, and putting that into movies and television could have been a calling for him.
5
Ted DiBiase
Active Years Wrestling: 1974 – 1999
WWE Hall Of Famer
King Of The Ring (1988)
Two-time Million Dollar Champion
Ted DiBiase was always an extremely confident talker, and that is something that would have allowed him to thrive in the acting world. Anyone who could cut great promos in WWE, particularly during a time when scripts were not used, possessed the right skills to confidently act.
He was able to display his character perfectly and that is something that few people were able to do during that era to his level. That would have allowed him to translate into the acting world had he tried.
4
Dusty Rhodes Had A Unique Mind
Active Years Wrestling: 1967 – 2007
WWE Hall Of Famer
Former NWA Worlds Heavyweight Champion
Did voice acting for "Scooby-Doo! and WWE: Curse of the Speed Demon"
Dusty Rhodes has always been praised for his creativity, and that in itself is something that would have made him a great actor. He is someone who could easily have connected to audiences as an everyman, just as people did to him throughout his wrestling career.
Rhodes could truly show off and bring a lot of charisma, and that in itself would have led to him becoming a fantastic actor if he'd pursued that world.
3
Santino Marella Always Got A Laugh
Active Years In Wrestling: 2002 – Present
Two-time Intercontinental Champion
Worked for "Sportsnet 360 Aftermath" as an analyst
Former United States Champion
Santino Marella is the perfect example of a wrestler who was able to get over purely due to his ability as an entertainer rather than in-ring talent. While Marella could perform inside the ring, that isn't how WWE opted to book him. Instead, his focus was on providing comedy through his behavior and promo skills.
His natural timing would have made him perfect in the comedy world, whether that be in movies or a sitcom show. It is easy to imagine him playing a character that everybody would have loved.
2
AJ Lee Could Follow Her Husband In Hollywood
Active Years Wrestling: 2007 – 2015
Appeared in "Heels"
Three-time Divas Champion
Wrote her own autobiography
AJ Lee proved to be a brilliant professional wrestler, and a large part of that was down to her in-ring talent. Lee could hold her own against anybody and create a great match, but she was also a fantastic character who would entertain audiences with her promos and acting abilities.
RELATED: 10 Worst Things AJ Lee Did In Wrestling
Lee could easily have gone down that road and become an actress because her natural charisma was clear. Lee knew how to be psychotic and also funny, showcasing real range throughout her career.
Active Years Wrestling: 1986 – 2012
Voiced 'The Boulder' in "Avatar: The Last Airbender"
Has written four children's books
Three-time WWE Champion
Mick Foley has dipped his toes into acting over the years in both movies and television, but they have always been small roles, never truly committing. That's a shame because Foley would have made an amazing actor, and even though he is a Hall Of Fame wrestler, he could potentially have been even better in the world of Hollywood.
Foley is one of the best talkers in wrestling history, having created some engaging promos. He can inject real personality and emotion, which would have made him great potentially in a horror movie. However, he can also be a jolly soul, even volunteering as Santa Claus at Christmas time.