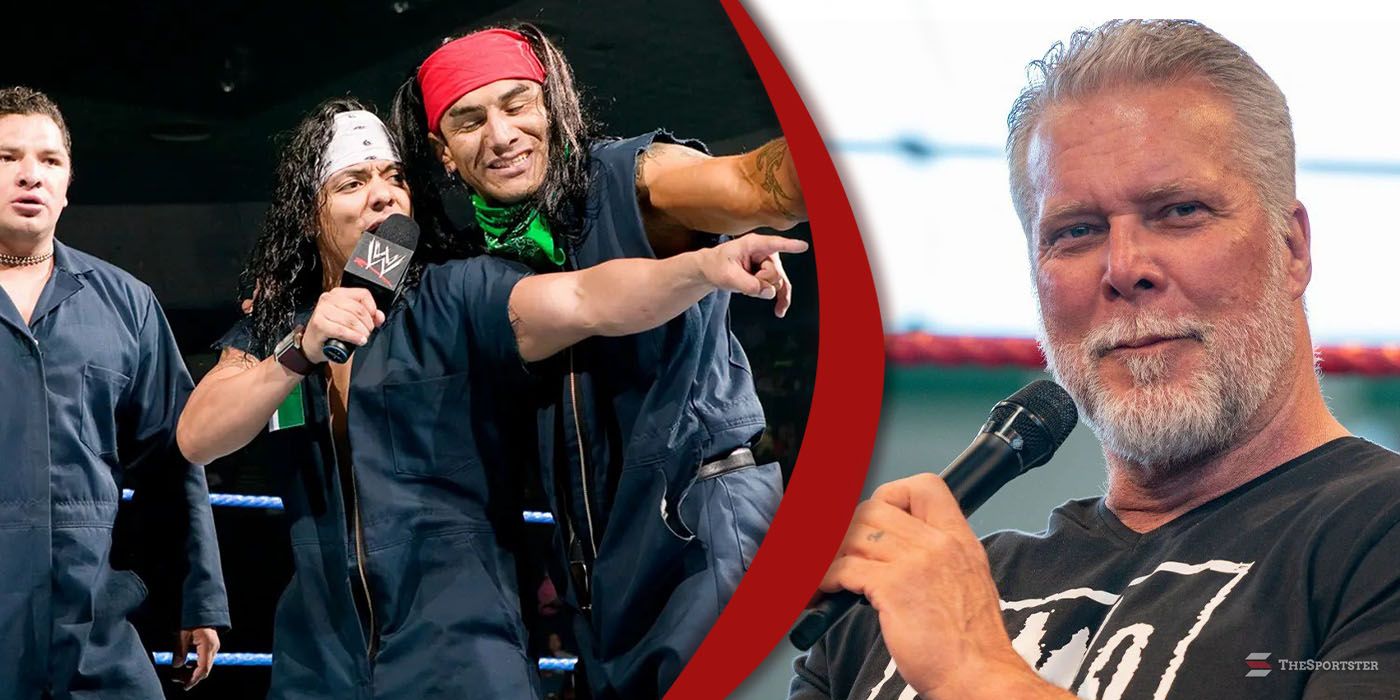 The Ruthless Aggression Era was the perfect time to change this up since WWE completely changed their business philosophy. WCW competing with WWE in the Attitude Era led to television time being limited with every segment counting. The changes in WWE without competition led to a brand split with their own shows competing against each other.
RELATED: 10 Most Emotional Moments Of WWE's Ruthless Aggression Era, Ranked
Two unique rosters meant that more slots were needed for talents to get more opportunities. However, not everyone changing their looks or personas led to success. Christian getting a haircut or The Rock embracing his Hollywood persona showed positive changes. Unfortunately, the following wrestlers had their own negative changes when altering their looks in this era of WWE.
10
Kevin Nash
Cut His Hair For A Movie Role
The Punisher Film Led To Nash Needing Shorter Hair
Hair Vs Hair Match Felt Weird Since He Kept Some Hair
Left WWE A Few Weeks Later
WWE rehired Kevin Nash to be part of the New World Order in 2002, but that just didn't work as planned. Nash suffering an injury was the final blow to the group when he tore his quad. WWE still had interest in using Nash a year later when returning from the injury.
RELATED: 5 Best Booking Decisions Of WWE's Ruthless Aggression Era (& 5 Worst)
Nash had a solid feud with Triple H and moved into a program with another heel Chris Jericho. The end of the Jericho feud saw Nash losing his hair as part of a stipulation. Nash had short blonde hair for the last few appearances during this WWE run with a future movie role in The Punisher film warranting the worse look.
9
Shelton Benjamin
The Gold Standard Became Too Literal
WWE Wanted To Change Something About Shelton
A Hair Color Matching Nickname Was Bad Idea
Shelton Felt Less Important As Gold Standard
Shelton Benjamin was on the WWE roster for almost the entire Ruthless Aggression Era. WWE fans loved the in-ring work of Benjamin, but WWE felt he lacked the personality needed to move up the card into the main event role as his full potential.
One change made to Shelton was dying his hair blonde to match his new nickname of the Gold Standard. This felt like a desperate move and didn't help Benjamin any more than his previous look. Shelton even asked fellow blonde wrestler Viscera for permission to dye his hair, and it was all for nothing.
8
Billy Kidman
Another Former WCW Talent Changed For The Worse In WWE
WWE Dropped Ball After He Broke Out In WCW
Cutting His Long Hair Was A Big Mistake
Felt Like Just Another Guy On Roster
Billy Kidman was one of the better WCW talents to join during the Invasion storyline. However, this didn't lead to much of a push in WWE beyond being just another member of the group. Kidman remained on the roster and made some changes in the Ruthless Aggression Era.
WWE had Kidman cut his hair and he looked completely different from his WCW days. Kidman achieved minimal success in the cruiserweight and tag team division before losing his on-screen spot after a few years.
7
Shane Helms
Losing His Super Powers Hurt His Career
The Hurricane Gimmick Made Helms A Star
Lost Merch Money With Gimmick Change
Fans Didn't View New Character As Entertaining
WWE found success with Shane Helms adopting his new persona of The Hurricane after his superhero tattoo was mentioned on air. Helms became a popular comedy character as the superhero and had a Superman story of pretending he had two identities.
This eventually ended when WWE felt The Hurricane ran out of steam and a change was needed. Helms got a haircut and started dressing differently for a heel push. This felt too generic and a downgrade after standing out more than anyone with such a unique look of green hair and the superhero gear.
6
Rico
Most Random Face Paint Use By A Wrestler
Rico Started Off As Relevant Manager
Move To Ring Led To Face Paint Without Explanation
Tag Team Run With Charlie Haas Didn't Work Out
The various wrestling and managing roles of Rico saw him getting a chance on the WWE main roster during the Ruthless Aggression. Rico started off managing the tag teams of Billy & Chuck and 3-Minute Warning while wearing over the top suits.
WWE made some changes when Rico attempted to wrestle more and compete against credible WWE wrestlers. Rico wearing colorful face paint and gear to match felt like a drastic change with fans not caring. A failed tag team run of Charlie Haas and Rico led to Rico's WWE career flopping.
5
Eric Bischoff
Worst Use Of A Loser Loses Hair Stipulation
Losing Hair Was Meant To Elevate Eugene
Fans Didn't View Eugene As A Star
Bischoff Didn't Feel Like Himself With The Shaved Head
Wrestling promotions have used the hair vs hair matches to make the losers pay for losing a feud. WWE booked one of their strangest feuds using this stipulation for Eugene vs Eric Bischoff. This forced Bischoff to get his head shaved and lose most of his hair.
RELATED: 5 Best Promos Of WWE's Ruthless Aggression Era (& 5 Worst)
Bischoff looked much worse with the buzzcut towards the end of his stint as Raw General Manager. The dark hair and full head of hair was how fans remembered Bischoff, so a change was not a good one. Bischoff didn't feel the same with a new look, and Eugene's push failing made it all for nothing.
4
Rene Dupree
Most Random Mustache In Wrestling History
Mustache Appeared Out Of The Blue
Final Run For Rene Didn't Work Either
Facial Hair Is Not A Personality
WWE signed Rene Dupree as one of the youngest wrestlers in company history to make the main roster, but his career never panned out as planned. Dupree was part of La Resistance in the tag division before moving into a singles role in his alter WWE years.
A bold change came towards the end of Rene's tenure when he grew a unique mustache. The look was different than anyone else in WWE, but it also came off strange. Dupree looked worse with the beard and it didn't help turn his career around.
3
Psychosis
Fans Missed His Trademark Mask
Ruined Psychosis' Only WWE Stint
Fans Will Always Remember His Mask
The Mexicools Was An Offensive Gimmick
The Mexicools trio in WWE received a run together of three Mexican wrestlers on the same page. Juventud Guerrera, Psychosis and Super Crazy formed the Mexicools on the Smackdown brand and unfortunately flopped due to the gimmick coming off insulting and offensive.
Psychosis made a big change competing unmasked on WWE TV, but it just made fans who watched him in WCW struggle to remember him. The mask would have helped give Psychosis a much bigger chance at getting over than the unmasked look.
2
Test
Fans Remembered Him For The Longer Hair
Test Was Once Viewed As Future Top Star
Not Even Stacy Keibler Could Get Him Over
Cutting Hair Ended Up Being A Mistake
The Attitude Era saw Test looking like a potential future main eventer with a cool look that featured long blonde hair. WWE tried to reboot Test with Stacy Keibler as his manager and love interest trying to get him over with the audience to a broader level.
Test also cut his hair much shorter to change his look, but most fans preferred the longer hair. This was around the time when fans appeared to lose any remaining faith in Test. WWE released Test and brought him back later in the Ruthless Aggression Era with the ECW reboot, but he flopped again with the short hair.
1
Kane
Losing The Mask Exposed Weaknesses
Kane Felt Less Important Without Mask
Fans Wanted Moment Until They Got It
Moved Kane To Mid-Card
WWE found a major star in the Kane gimmick and decided to play into fans wondering what he looked like under the mask. Kane was finally unmasked after five years as per a stipulation when Triple H defeated him with the World Championship on the line.
The unmasking of Kane saw fans shocked when he was nearly bald and removed a wig with the mask. Kane unfortunately felt much less important with the new look and moved down the card as the Ruthless Aggression Era went on.