The NFL is always known for some major high scores over the years. The 2021-22 playoffs saw some thrilling contests such as the Chiefs vs Bills, Rams vs Buccaneers and a good Super Bowl. It's also something when a team racks up 40 to 50 points while their opponents are hapless against them. Yet it's more impressive when both teams manage to combine for some huge scores.
The majority of these types of shootout games come in the regular season, as only a few playoff games have truly combined into high scores. It's no surprise when it's games between two top teams led by stellar quarterbacks who combine into a thrilling game. Yet, it's notable when two so-so teams can somehow click into a high-scoring game that puts other contests to shame. These are the ten highest-scoring games in NFL history to showcase how remarkable two teams can rack up more points in one game than some do in a season.
RELATED: 13 NFL Players Who Came From Poverty To The Pros
UPDATE: 2023/10/24 18:00 EST BY STEFANO MOCELLA
It's no secret that in the modern generation, the NFL's brand is built around offense as the rules have been altered to favor that side of the game. For the longest time, Dan Marino was the only QB to eclipse 5,000 yards in a season. Now, seven QBs have joined that list in the last decade (Drew Brees, Peyton Manning, Tom Brady, Justin Herbert, Patrick Mahomes, Matthew Stafford and Jameis Winston). It just gives you an idea of where standards are now for yards and points are concerned. With some high-scoring shootouts in recent seasons, we figured this list was worth a revisit.
13
Tampa Bay Buccaneers vs. Los Angeles Rams, September 29th, 2019: 95 Points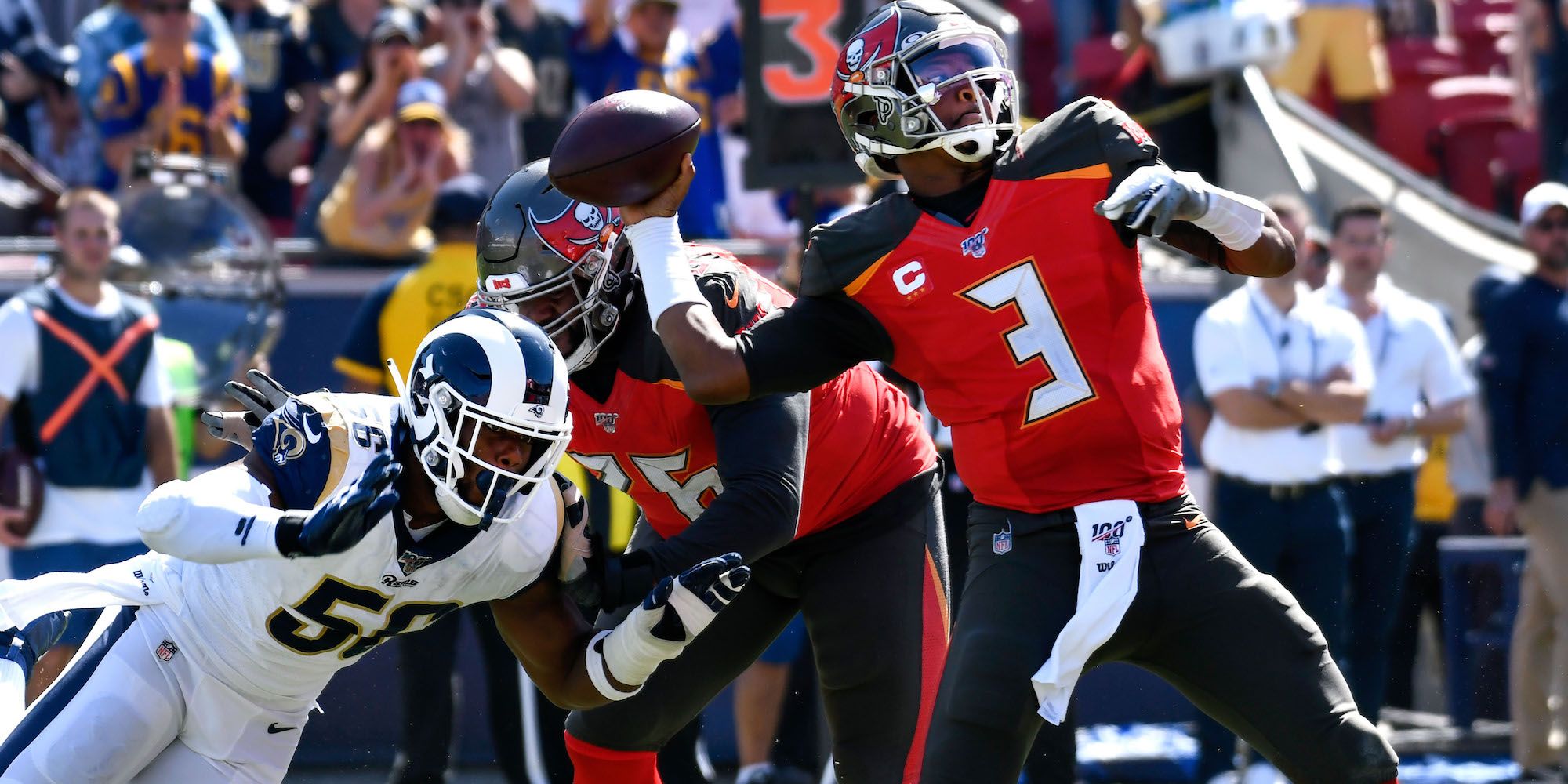 Just a year before Tom Brady arrived in Tampa, the Buccaneers showed amazing promise, particularly on offense, as they scored a lot of points and gained a lot of yards. The only problem was they couldn't stop turning the ball over. Fortunately they didn't make many mistakes in a Week 4 matchup against the Rams, as the Bucs posted a whopping 55 points on the Rams, while Los Angeles managed to hit 40.
Many fans will remember this was Winston's famous 30 touchdown/30 interception season, but on this day he threw four TD passes to just one INT, going 28/41 for 385 yards. Giving up on their running game early, the Rams had Jared Goff throw the ball 68 times, which is rarely a recipe for success for any offense. Goff completed 45 of his 68 throws for 517 yards and two TD passes, however he also threw three interceptions that proved to be the difference.
What was interesting about this game was that nearly half of the game's points came in the 4th quarter, with the Bucs outscoring the Rams 24-20 in the final period.
12
New York Jets vs. Miami Dolphins, September 21st, 1986: 96 Points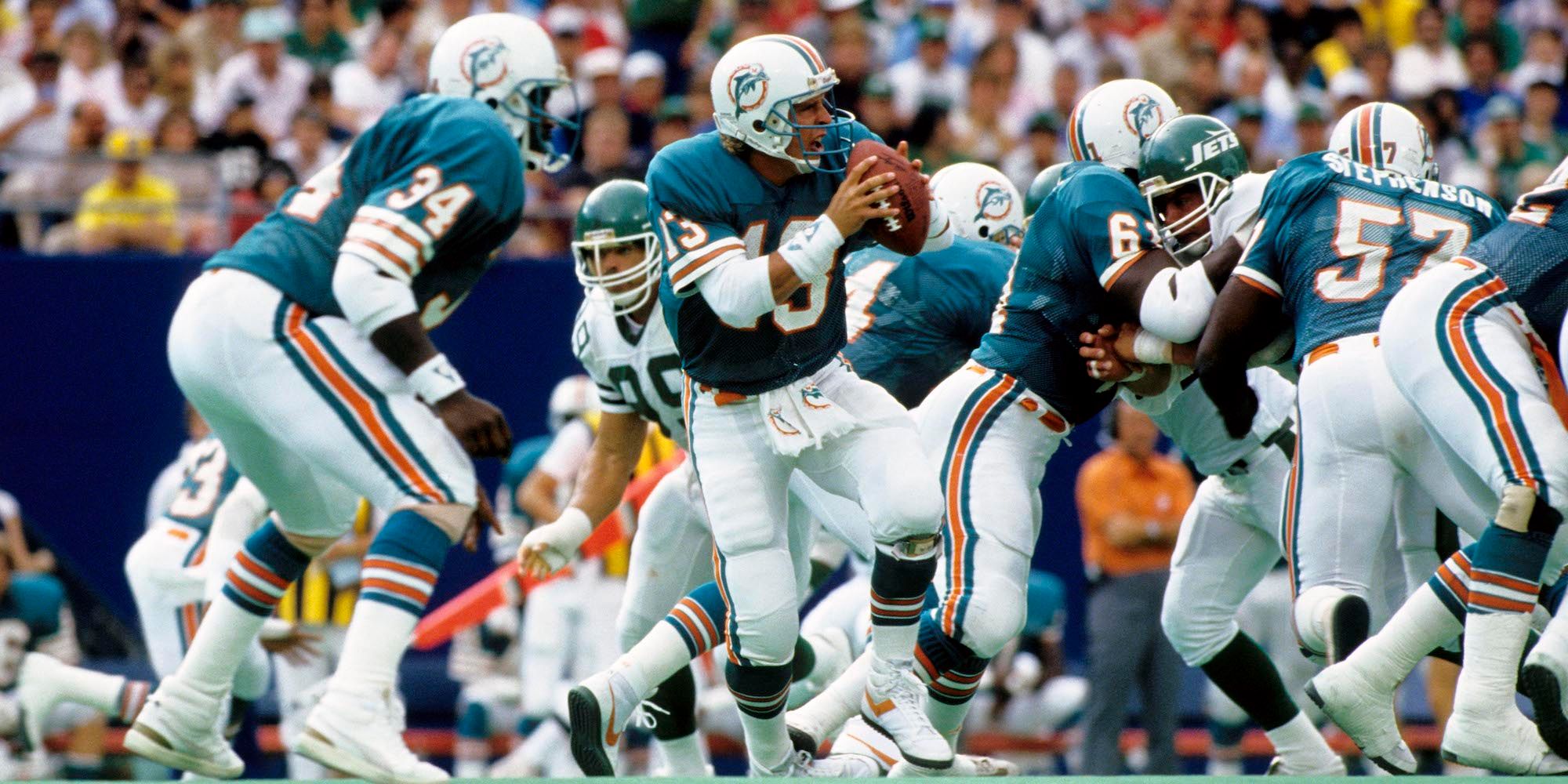 The fake spike game may be the most famous moment in the Dolphins-Jets rivalry in the Dan Marino era, but this barn burner can't be forgotten. Early in the 1986 season, the Dolphins visited the Jets in what turned into a 51-45 shootout, with the Jets managing to win the game in overtime. Down 31-21 going into the second half, the Fins roared back with 17 unanswered points in the 3rd quarter, before exchanging scores with New York in the 4th quarter.
The Jets forced overtime with a late touchdown pass from Ken O'Brien to Wesley Walker, and the duo connected again for a score in overtime to seal the win. Marino completed 30-of-50 passes on the day for 448 yards, six touchdowns and two interceptions. O'Brien got the edge in this chapter, going 29-of-43 for 479 yards and four TD tosses with just one pick.
11
Cincinnati Bengals vs. Cleveland Browns, September 16, 2007: 96 Points
The 2007 season was not a fun time to be a Browns or a Bengals fan, but the fans in Cleveland got a nice treat early in the season as they witnessed a classic. The Browns overcame their AFC North rivals, which consisted of the likes of Carson Palmer, Chad Johnson and TJ Houshmandzadeh. Derek Anderson, one of many QBs on Cleveland's long list of starters, managed to outduel the Bengals offense, throwing for five touchdown passes in the win.
Both teams eclipsed 500 total yards in the game and the big star of the game on offense was Browns running back Jamal Lewis, who rushed for 216 yards on the ground on 27 carries. Chad Johnson, known to many fans as Ochocinco, also had a monster game in a losing effort, catching 11 passes for 209 yards and two scores. In the end, the Browns made just enough stops to hold off the Bengals in a 51-45 win.
10
Packers Vs Cardinals, 2010 NFC Wild Card: 96 Points
While a few games have hit 96 points, the 2010 NFC Wild Card ranks as the highest-scoring playoff game ever. It was a classic shootout between Aaron Rodgers and Kurt Warner that was highlighted by the second half beginning with five consecutive touchdown drives.
In the end, it was ironically a defensive play that made the difference, as in overtime, Rodgers was stripped of the ball and Karlos Dansby, who ran it back 17 yards for a touchdown. It makes sense two MVP QBs combined for a playoff masterpiece rarely equaled.
9
Rams Vs Colts, October 22, 1950: 97 Points
Things were different for the NFL in the 1950s with laxer rules on penalties and a different style of play. This allowed the Rams (then in L.A.) to roar to a dominating win over the Baltimore Colts. In terms of average points, the 1950 Rams were the highest-scoring in NFL history and showed that running roughshod over Baltimore.
Related: 5 Recent NFL Blockbuster Trades That Paid Off (& 5 That Failed)
The 70-27 victory was the highest regular-season score in the NFL for 35 years and the Rams one of just three teams in history to hit 70 in a game. Amazingly, they racked up another 60 points on Detroit the following week to show just how powerful this Rams unit was.
8
Steelers vs Chargers, December 8, 1985: 98 Points
Mention 1985 and most think of the Chicago Bears dominating the NFL. But the highest-scoring game of that season came from the 7-7 Chargers facing the 6-8 Steelers. Perhaps because they had nothing to play for in the postseason, the teams went at it well, with San Diego's Dan Fouts throwing for an impressive 372 yards and three TDs.
The Steelers' David Woodley had 287 yards and three TDs of his own. In the end, the Chargers' early 21-7 lead was too much for Pittsburgh to catch up on, as the Chargers won 54-44 to show it doesn't take stellar teams to make a good game.
7
Broncos Vs Cowboys, October 6, 2013: 99 Points
The 2013 Broncos hold the record for the most points (606) in a single season. So it only makes sense they could have one of the most high-scoring games ever. It was against the Cowboys, with Tony Romo having one of the best games of his career, recording 506 yards with five touchdowns which kept the Cowboys in the game.
Related: Russell Wilson To The Denver Broncos & 9 Other Blockbuster Trades In NFL History
But Peyton Manning was too much to take, throwing 414 yards with four touchdowns himself. Sadly for Cowboys fans, Romo threw a key interception in the last two minutes, allowing Denver to hit a field goal for the 51-48 win. It was another entry in Peyton's long list of terrific games while Romo put in a stellar effort in the loss.
6
Seahawks Vs Chiefs, November 27, 1983: 99 Points
It's always surprising when two middling teams create a great game. Right after Thanksgiving 1983, the 7-6 Seahawks were visiting the 5-8 Chiefs, neither team with much playoff hopes. Yet somehow, they ended up putting on a fantastic game, with Kansas City exploding for 21 points in the second quarter.
The Seahawks came roaring back with 17 points in the third, the Chiefs answering with 13. Regulation ended in a 48-48 tie, sending it into overtime, where the game was won by a Seattle field goal. Amid an otherwise forgettable season for both teams, they combined into the highest-scoring game the NFL would see for two decades.
5
Giants vs Saints, November 1, 2015: 101 Points
For all the flack he gets on bad seasons, now and then Eli Manning reminded you why he had two Super Bowl MVP trophies. In 2015, Manning led the Giants against the Saints and he and Drew Brees surprised many with a terrific matchup. At the time, their combined 13 touchdowns were a record and backed by a good array of receivers.
Related: The 10 Best NFL Quarterbacks Of All Time Ranked
The Saints pulled ahead in the second half only for Eli to get 21 points for the Giants in the fourth quarter. Notably, only one field goal was made, the Saints' final score as New Orleans pulled off a 52-49 victory. Despite the losing effort, the stats he put up on this night helped silence some of Eli's naysayers.
4
Raiders vs Oilers, December 22, 1963: 101 Points
Technically, this took place in the old AFL, but it counts as merged when the leagues combined. The Raiders were hot in 1963, riding a seven-game winning streak as they faced Houston. George Blanda kept the Oilers going with 342 yards and five touchdowns, while the Raiders' Tom Flores had 407 yards and six touchdowns.
Both sides had some top receivers with the game a 49-49 tie into the fourth quarter. In the end, it was placekicker Mike Mercer hitting a field goal to give the Raiders the 52-49 victory and the AFL's top scoring game ever.
3
Chiefs vs Rams, November 18, 2018: 105 Points
This gem was a dream battle of young hotshot head coach Sean McVay's flashy offense against the league's newest sensation in Patrick Mahomes. It didn't disappoint, as the Monday Night contest was truly a masterpiece put on by both Mahomes and Jared Goff. Goff threw for 433 yards, with four passing touchdowns and ran one in himself. Mahomes matched him with 478 yards and six touchdowns.
Related: The Last 10 NFL Super Bowl Losers Ranked Worst To Best
Sadly, Mahomes' three interceptions (one a pick-six) and two fumbles (one run back for a touchdown) were the key difference. The Rams won 54-51, but both teams have the honor of being in the only game where both sides scored over 50 points for a stunning achievement.
2
Bengals Vs Browns, November 28, 2004: 106 Points
It's always a big deal in Ohio when the Bengals and Browns clash, but few games in the interstate rivalry have been as huge as this. This was a game that had folks convinced Carson Palmer was a future Hall of Famer, throwing four touchdowns. Also, Rudi Johnson had the game of his life, a career-high 202 yards and two touchdowns himself.
The Browns made a good comeback with 21 points in the third quarter and threatened to pull ahead. But a pick-six sealed their fate, giving the Bengals a 58-48 victory and a high point of the rivalry.
1
Giants Vs Washington, November 27, 1966: 113
It remains amazing that with so many high-powered offenses in modern times, the highest-scoring NFL game was over 55 years ago. In a wild game, the Giants and Washington went at it, marked by 16 touchdowns. As this was before the league used nets for extra-point kicks, 13 balls were lost in the stands.
Oddly, all that scoring still led to a lopsided Washington victory, 72-41. That included scores on offense and defense while New York held strong until the end. Even given this was a time of laxer penalties, the scoring in this game was insane.