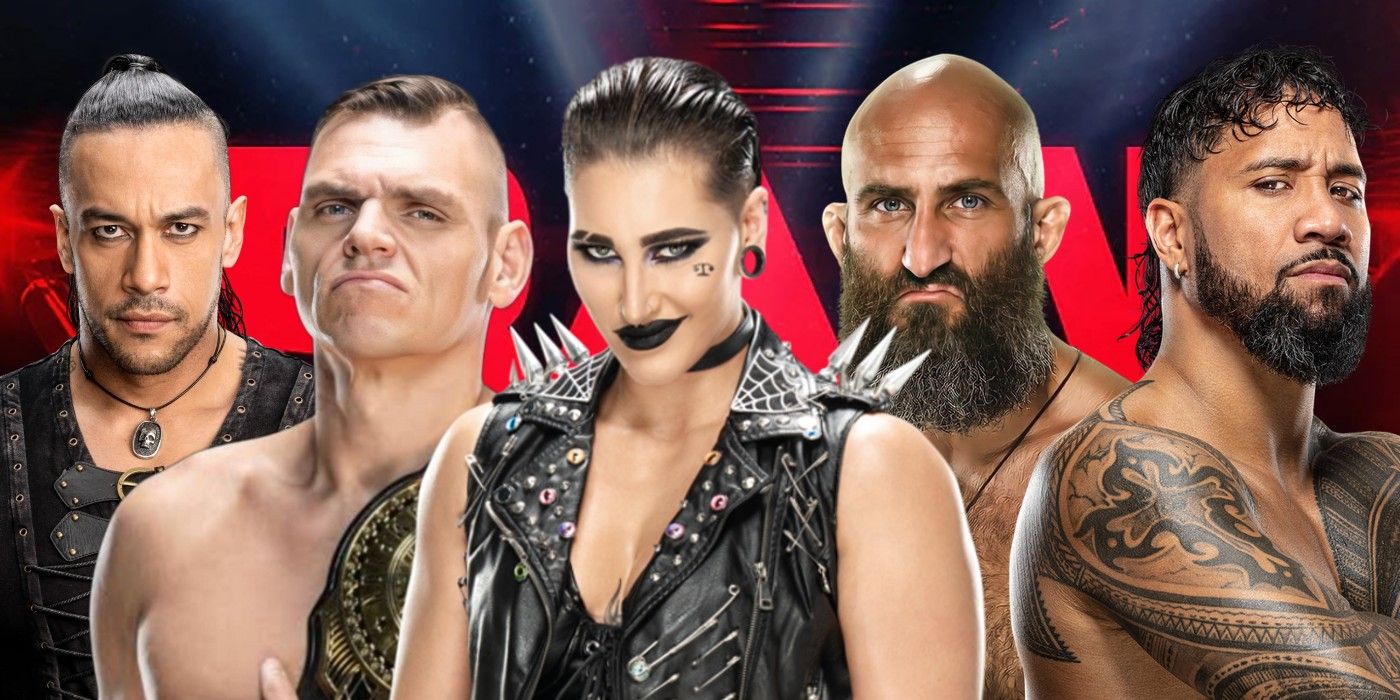 Highlights
Rhea Ripley returns and goes on a rampage, taking down anyone who gets in her way. She is back and in control.
Imperium gets a much-needed win and defeats Alpha Academy in an impressive technical classic. Chad Gable proves his skills in the ring.
Xavier Woods shocks Ivar with a surprising rollup pin, but Ivar snaps, destroying both Woods and Kingston in a violent assault. Ivar's potential for singles stardom is evident.
This week's Raw from Sacramento had a big task ahead of them. It had to capitalize on the success of NXT No Mercy, sell the upcoming Fastlane PLE from Indianapolis this weekend, and somehow attempt to overshadow the incessant talk of Adam "Edge" Copeland's debut at AEW WrestleDream the night before. Before Raw even started, the task became more difficult. Becky Lynch's scheduled match against Tegan Nox for the NXT Women's Championship was dropped due to Lynch's arm laceration during her bout against Tiffany Stratton on Saturday. On top of that, Damian Priest vs. Jey Uso was dropped as well following Priest not being cleared to compete.
RELATED: Becky Lynch Match For Raw Changed Following No Mercy Injury Update
Winner: Rhea Ripley Is Back And In Control
Raw started off hot with Nia Jax and Shayna Baszler getting into a brawl before their match. This led to Raquel Rodriguez coming out as well, before the crowd went nuts with the return of the Women's World Champion, Rhea Ripley. The champ had been out for weeks due to Jax's Raw comeback attack. All four women went at it, with a pissed off Rhea destroying any member of security who tried to get in her way.
Enraged, Ripley then called out Judgment Day. Damian Priest and Dominik Mysterio appeared. Ripley ripped them for their failures without her, and even went after Dom-Dom, telling him not to come home if he couldn't get the NXT North American Championship back Tuesday that he lost to Trick Williams at No Mercy. This led to Jey Uso coming out to take shots at the group. When Priest and Mysterio attacked, Cody Rhodes came out for the save. Adam Pearce then told everyone that Judgment Day would defend their Undisputed Tag Team Championships against Uso and Rhodes at Fastlane.
Winner: Imperium Gets A Much-Needed Win By Defeating Alpha Academy
Gunther is the longest reigning Intercontinental Champion ever, but his Imperium faction members, Ludwig Kaiser and Giovanni Vinci, haven't been able to click together or on their own of late. It's with that in mind that the pair took on the well oiled machine known as Alpha Academy. What could have been a throw away match was a technical classic. We all know that Chad Gable can go, but everyone held their own. It helped that the Sacramento crowd was hot for every move. After some shenanigans, Imperium was able to get the upper hand, with Kaiser getting the pin over Otis.
Loser: Bronson Reed Dominates Cedric Alexander
One of WWE's most underrated and underused superstars has to be Cedric Alexander. He is so talented in the ring, but seldom gets a chance. Finally, he got a rare appearance on Raw this week, only to be fed to Bronson Reed. The two did get a few extra minutes and hit several nice moves, but the outcome was decided before it ever began. It was a showcase for Reed and little more.
RELATED: Dragon Lee Likely Being Moved Up To Main Roster Permanently After Big Week
Winner: Gunther And Tommaso Ciampa Contract Signing
Gunther is officially the greatest Intercontinental Champion ever. At Fastlane, he was scheduled to face Omastar Ciampa. While it would be a great match, it's not one that brings much suspense. With all the starts and stops of bad booking and injuries, the Ciampa of 2023 is not the NXT legend we remember so well. Still, it was a great opportunity for him. Ciampa showed a lot of passion during his segment, yelling into the microphone about what the moment meant to him. Gunther, decked out in a suit, smirked and dismissed Ciampa. It looked like a contract signing that would do the usual route of a promo building into a fight, but tonight threw in a big curveball. Sick of Gunther belittling him, Ciampa talked Gunther into defending his title for the Raw main even instead of Fastlane. You have to think this was done because of the canceled matches, but whatever the reason, it worked for being unpredictable for once.
Winner: Xavier Woods Shocks Ivar
The New Day vs. Viking Raiders feud is more fun with Drew McIntyre's slow heel turn in the mix. This week, McIntyre wasn't part of it. Kofi Kingston sat on commentary while Woods and Ivar went at it alone. Erik wasn't there, as the New Day previously took him out for the foreseeable future. Before the commercial break, the match was predictable filler, with the crowd not very vocal, but that changed when the action returned. The two veterans then kicked it into high gear, with the crowd roaring and jumping to their feet when Woods got Ivar to his shoulders for a slam. After Woods got the surprising rollup pin, Ivar snapped, destroying both Woods and Kingston. He proceeded to pile them on top of each other before hitting a violent moonsault that had the crowd chanting "Holy s**t!" Ivar has had phenomenal matches with both Kingston and Woods now. The Viking Raider could one day be destined for singles stardom.
Winner: Seth Rollins And Shinsuke Nakamura's Final Preparations For Fast Lane
The program for the World Heavyweight Championship has been up and down in its presentation. At Payback, Seth Rollins was successful in defending his title against the challenging Shinsuke Nakamura. A rematch was welcomed by fans, especially with Nakamura going even deeper heel, calling out and playing mind games with Rollins' broken back. The only negative is that the weeks were becoming repetitive. The go home promo could have been more of the same, as Rollins started in the ring with Michael Cole talking about his back injury and how he's fighting for his wife and daughter.
Nakamura appeared on-screen in what turned out to be a prerecorded segment, as Shinsuke entered the ring behind a distracted Rollins for a surprise attack. So often, these segments end with the challenger getting the upper hand. Nakamura did just that, but the brutality of it is what makes this a winner. Nakamura destroyed Seth's back with repeated chair shots. The on-screen Nakamura began to count to ten in a wink to their Last Man Standing stipulation. When Rollins got back up, Nakamura drove his spine through a chair in a sick spot before counting to ten over the fallen champ.
Loser: Tegan Nox Defeats Chelsea Green
It was supposed to be Tegan Nox versus Becky Lynch, but instead ended up as Nox versus Chelsea Green, made official in an earlier segment. In another segment, Nox's former opponent, Natalya, gave her support. The match itself was a quick and uneventful one, with the crowd uninterested in either competitior. Nox got the win and Natalya raised her hand, but until Nox gets the match with Becky that she wants and needs (now scheduled for next week), nothing else can compare.
Winner/Loser: Drew McIntyre Beats The Miz
One of the best parts of Raw lately has been the slowly winding heel turn of Drew McIntyre. Better is that it makes sense. As a former victim of The Bloodline, McIntyre is disgusted by Rhodes bringing in Jey Uso for a second chance on Monday nights. McIntyre was supposed to be on Miz TV, but earlier in the night refused, telling Adam Pearce that The Miz would regret it if he came out. Drew came to the ring alone, still upset about what Rhodes had done. He said that forgiveness was weakness. He's a man who does things his own way and only cares what the fans think about him. It was a nice new chapter, until The Miz came out. Suddenly Drew turned into the bad, corny babyface with the awful one-liners. He even stupidly turned his back on The Miz, leading to an attack.
The impromptu match that followed was nothing special. The Miz wrestled in his suit and got in some decent offense, but Drew dominated for the win. He then got on the mic and made a snide remark saying that he was sorry for what he'd done, and now that he had, he'd be forgiven. Hopefully this is all leading to a feud very soon with Cody Rhodes.
Loser: Cody Rhodes Interview
The crowd will always pop for Cody Rhodes, and tonight was no different. Rhodes came out for a quick interview at the entrance. He talked about not expecting to ever team with Jey Uso. Rhodes also mentioned that he heard Judgment Day was going to be at SmackDown. He said he and Jey would be there too. It was more of an ad for SmackDown than anything else.
Winner: Gunther Defeats Tommaso Ciampa
Gunther and Ciampa were given the final half hour of Raw for their main event Intercontinental Championship match. Two of the best in ring performers in WWE, their match was guaranteed to be a great one despite the known outcome. The challenger got the advantage against Gunther early, countering any offense Gunther tried. The frustrated champ exited the ring going into the commercial break. Gunther was back in control coming back. He put Ciampa in a sleeper, but he got out of it, only to eat a big boot to the face.
Ciampa got Gunther in a Sicilian stretch, temporarily waking up a pretty dead crowd. Gunther really got the crowd going with some vicious chops delivered to Tommaso on the outside. That turned the match up a notch, with both men getting more violent. Ciampa hit a couple of knees on the outside after Gunther hurt his hand on a missed chop that hit the announce table. Ciampa hit a Willow's Bell for a near fall. Gunther hit a dropkick for a two-count of his own. A reverse DDT and a running knee had the crowd thinking Ciampa was about to win, but Gunther kicked out at two. Ciampa then kicked out of a dragon suplex that had the WWE fans chanting, "This is awesome!"
Ciampa put in a valiant effort, but a double powerbomb and another sleeper finally put him down. Gunther retains yet again! After the match, Imperium attacked a fallen Ciampa as Gunther walked away. It was then that Johnny Gargano finally returned for the save, taking out Imperium by himself. DIY is back!