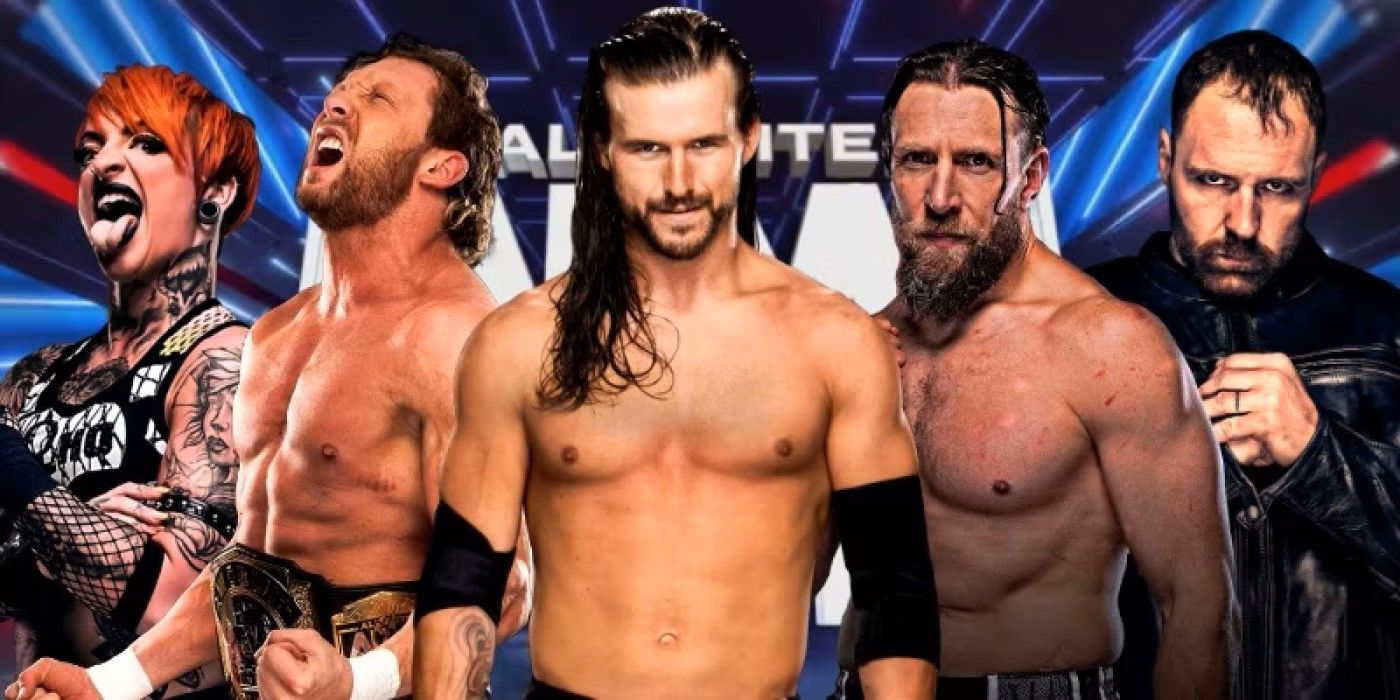 This week's installment of AEW Dynamite presented the expected return to the ring of Adam Cole. The card was completed with a match for the International Championship, the surprise return of Bryan Danielson and another firecracker from Kenny Omega!
Here are the winners and losers from the March 29 episode of AEW Dynamite.
RELATED: 10 Best Endgame Matches In AEW History, Ranked
Loser/Winner: Jungle Boy wins and fights MJF
Jungle Boy fought seasoned professional Matt Hardy in the opening contest. At this stage of his career, Hardy has a lot of experience, a good way of saying that he's a little slow. Jack Perry would have to work in a very different style than he is used to.
The match started slow; headlocks and armbars. When Jungle Boy went for a bump, he was caught in the air and thrown to the ground with a side effect. Perry ate another side effect on the ring apron minutes later. But the young star would fight back and win with a flurry of offense; a super kick, a Flat Liner and his patented running elbow.
While the game was solid, it fell short of the quality most Dynamite starters have. Also, it doesn't make much sense for Jungle Boy (a world title contender) to fight Matt Hardy, who is currently a bona fide midcard.
After the match, AEW World Champion MJF made his way to the ring. He went to great lengths to bury Jungle Boy, calling his AEW career midway through despite Perry's work ethic. Perry countered with a good zinger. Jungle Boy said that he didn't cheat his way to the top and "at least I don't wake up alone every day and hate the person I see in the mirror."
When MJF brought up Jack Perry's girlfriend Anna Jay and insulted Jungle Boy's manhood, a fight broke out, with Perry getting the upper hand.
Winners: Blackpool Combat Club Deliver Pain To Dalton Castle And The Boys
The Blackpool Combat Club made very quick work of Dalton Castle and The Boys. BCC attacked the flamboyant trio as they were making their entrance. Less than two minutes later, as Moxley and Yuta brutalized the members outside the ring, Claudio nailed a seated powerbomb inside the ring for a quick but brutal victory.
Backstage, Don Callis tried to make a half-hearted apology to Hangman Adam Page. As Callis extended her hand in greeting, Page was surprised by the BCC in a three-on-one attack. Callis the slug tried to make amends with the violent trio, but Moxley punched Don in the face, knocking him open!
The Blackpool Fighting Club was in an uproar, and this wasn't the last we'd see of them.
Winner: Kenny Omega vs. jeff cobb
After his epic encounter with El Hijo del Vikingo, Kenny Omega was wrestling at much less than one hundred percent. He was not only physically handicapped but also mentally handicapped with almost all of his friends injured by him and attacked by the BCC.
The huge Jeff Cobb took advantage of Omega's lack of focus early on. Cobb worked slowly and methodically and was in complete control for the first few minutes. Finally, Omega woke up and landed three Snap Dragon Suplexes. He followed that up with a rip-rope V-Trigger and a brutal V-Trigger against the ropes.
Both fighters went to the top rope. After an exchange of headbutts, Cobb hit Omega with a delayed vertical superplex, which looked incredible. The New Japan star then added insult to injury by hitting Kenny with his own V-Trigger. He prepared Omega for the one-winged angel. If anyone knows how to get out of that move though, it's Kenny OMG Omega!
Omega escaped, hit another V-Trigger, and set up the massive Cobb for a One-Winged Angel. The incredible feat of force to hit the finisher would have been impressive, even if Omega wasn't selling his injuries. 1-2-3, Kenny Omega retained his IWGP United States Championship.
Winner: Bryan Danielson returns and realigns with BCC
After the match, BCC came down and surrounded the ring. With the Bucks, Hangman and Don Callis injured, Omega had no one back to rely on. So… Bryan Danielson's hit song!
The American Dragon walked into the ring with a purpose. Just when it looked like he was going to come to Kenny Omega's aid and have his back, BOOM! Danielson nailed Omega with the Busaiko Knee.
Bryan locked Omega up in LaBell Lock while the other BCC members put Omega's boots on and brutalized the security guards. Blackpool Combat Club has never looked more dangerous.
Loser: International Championship Match
The International Championship match graphic was enticing; Orange Cassidy vs. The Butcher. Unfortunately, the match did not have much time. A good deal of the television time given to the contest was taken up with distractions and interference, a calling card for many Orange Cassidy matches.
Sometimes Cassidy's chaos works well, but when the device isn't used sparingly, it stops bringing drama. As expected, Orange Cassidy retained. The match was, to quote the International Champion, "Whatever."
Winner: Ruby Soho vs. willow nightingale
Two former teammates went head to head. Willow Nightingale gave an excellent performance when her former friend made her entrance. Willow looked hurt and like she wanted to cry. That emotional expression quickly evaporated when Ruby Soho slapped Nightingale across the face.
Willow fought valiantly, not only against her formidable opponent, but also against the other members of Outcast who tried to sneak in some cheap shots whenever they could. Inside the ring, a stellar fight was exhibited. Willow hit a Death Valley stiff driver for a breathless near fall. Ruby Soho hit two No Futures from a near fall.
The match concluded with a roll-up. Soho used the ropes and an assist from Toni Storm to secure the three count and victory.
After the bell, The Outcasts attempted to Pillmanize Willow's ankle. Riho and Skye Blue came in to make the save, but the numbers game was too much for the young stars. Finally, Jamie Hayter ran to the ring and gave the house a thorough cleaning! Jamie Hayter is amazing. Willow Nightingale is awesome. And the AEW Women's Division is from to generate some intrigue.
Winner: Adam Cole wins on his return to the ring
June 26, 2022 was the last time Adam Cole competed in the ring. Tonight he was back bay bay! He would have no walk in the park when he faced Daniel Garcia in the main event.
Garcia targeted Cole's injured head and neck early. He put an exclamation point on his offense by hitting a piledriver! Cole sold it tremendously and immediately walked out of the ring as the broadcast went to a commercial break.
After the bell, Cole found his footing. He and Garcia traded some impressive moves; a neck breaker, a German deadlift suplex and other piledriver, to name a few.
Cole would win after finally landing his Panama Sunrise, which set Garcia up perfectly for the Boom! A running knee to the back of the head. 1-2-3! Dr. Britt Baker (Cole's girlfriend) came out to celebrate the win with Cole. Meanwhile, Chris Jericho came out to help Daniel Garcia and cast some disturbed looks at Cole in the process.
Full match results and highlights:
Jungle boy def. Matt Hardy via pinfall.
MJF and Jungle Boy engage in a promotional battle that turns into a fight.
Don Callis said he would apologize to Hangman Adam Page for the misdirection involving Kenny Omega last week.
Blackpool Fighting Club def. Dalton Castle & The Boys via pinfall in a brutal squash match.
The BCC attacked the hanged Adam Page and Don Callis backstage.
Defeat of Kenny Omega. Jeff Cobb via pinfall to retain the IWGP United States Championship.
BCC surrounded Kenny Omega. Bryan Danielson returned to help BCC take down Omega.
A video package highlighted the tag title match between The Gunns and FTR next week.
right by Cassidy Orange. The Butcher via pinfall to retain the AEW International Championship.
Jade Cargill did a promotion for Taya Valkyrie and recounted their rivalry.
Ruby Soho r. Willow Nightingale via pinfall.
The Outcasts feuded with Jamie Hayter, Riho, and Skye Blue.
Adam Cole def. Daniel Garcia via pinfall.
Adam Cole and Britt Baker celebrated in the ring, Chris Jericho came out and gave Cole a serious look.