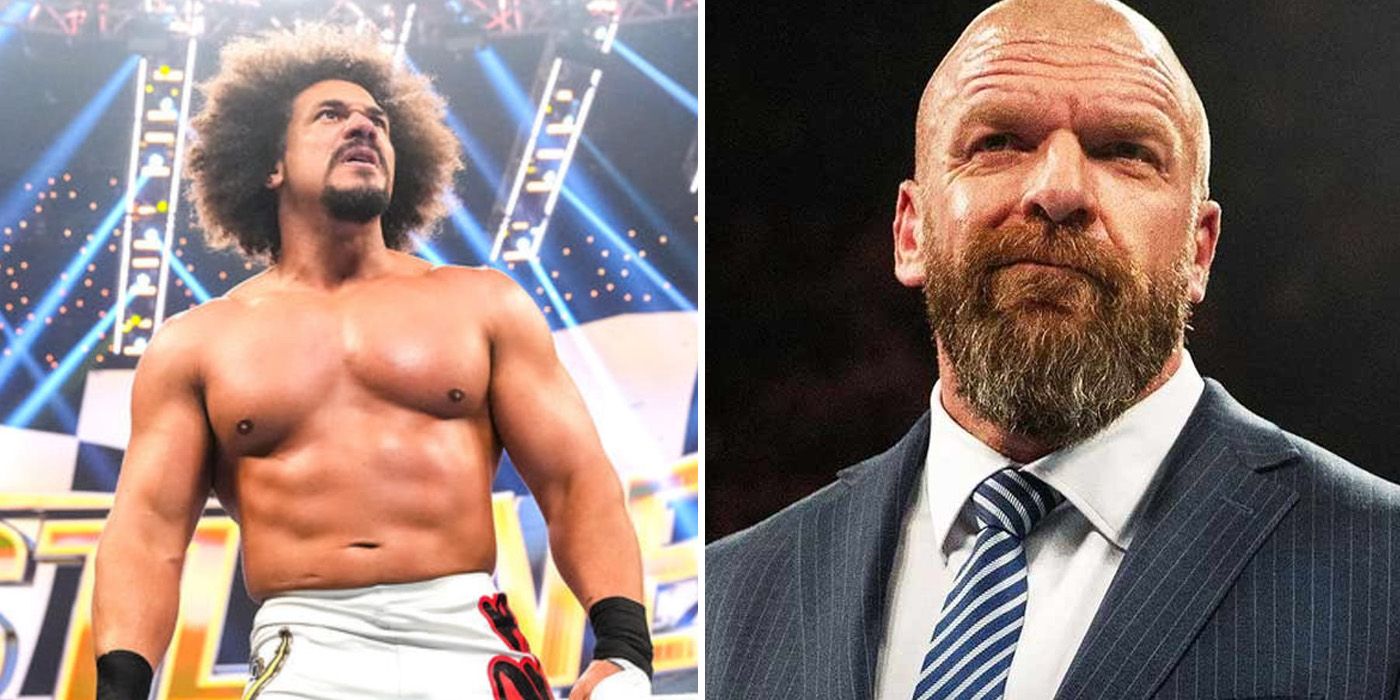 Highlights
Carlito's return to the ring has been met with mixed reactions due to WWE giving him a new theme song, which has disappointed many fans.
His old theme song was iconic and had a strong emotional connection with the audience, making the decision to change it questionable.
Despite the controversy, Carlito's popularity and talent as a wrestler remain unaffected, and WWE has the opportunity to reconsider their decision based on fan feedback.
Carlito made a triumphant return to the ring after months away from the spotlight, marking his comeback under contract with the company. However, his return was not without some debate, as WWE opted to give him a new theme song, a decision that has sparked mixed reactions among fans and even the wrestler himself.
The iconic Superstar known for his charisma and trademark apple-spitting gimmick, opened up about his thoughts on the new theme song in a recent interview on The Ringer Wrestling Show. According to Carlito, he was not thrilled about the change and expressed his preference for retaining his old theme music. He acknowledged the resistance to change but believed that sometimes a fresh approach was necessary, stating, "I know people don't like change. I'm that guy too. I'm not crazy about change but, I think it's something that needed to be done and just to, you know, put a fresh coat of paint on everything."
His old theme song, synonymous with his wrestling persona, had become an iconic anthem that resonated with fans worldwide. Its immediate recognition was evident, especially among the passionate audience in Puerto Rico, where it had elicited an electrifying response during WWE Backlash earlier this year. The decision to deviate from this familiar tune left many fans disappointed and questioning WWE's judgment.
RELATED: Every Major Feud Of Carlito's WWE Career, Ranked
Some members of the WWE Universe have argued that retaining Carlito's original theme song would have resulted in a significantly larger pop upon his return, enhancing the overall impact of his comeback. The nostalgic attachment fans have to his classic music is a testament to its enduring appeal and the emotional connection it forged with the audience over the years.
Carlito Will Be Just Fine With New Music
Despite the mixed reception to his new theme song, Carlito continues to enjoy widespread popularity among wrestling enthusiasts. His fanbase remains loyal, emphasizing that his charisma and in-ring prowess are not solely reliant on his entrance music.
In light of the ongoing discussions and fan feedback, WWE has the flexibility to reconsider its decision. If the consensus among the audience leans heavily toward the old theme song, the company can always revert to the iconic music that defined Carlito's WWE legacy. Whether WWE will honor the fans' sentiments or stick with the fresh musical direction remains to be seen, but one thing is certain – Carlito's return has gone over well and he's in line for a serious push, with an immediate feud lined up with Bobby Lashley.