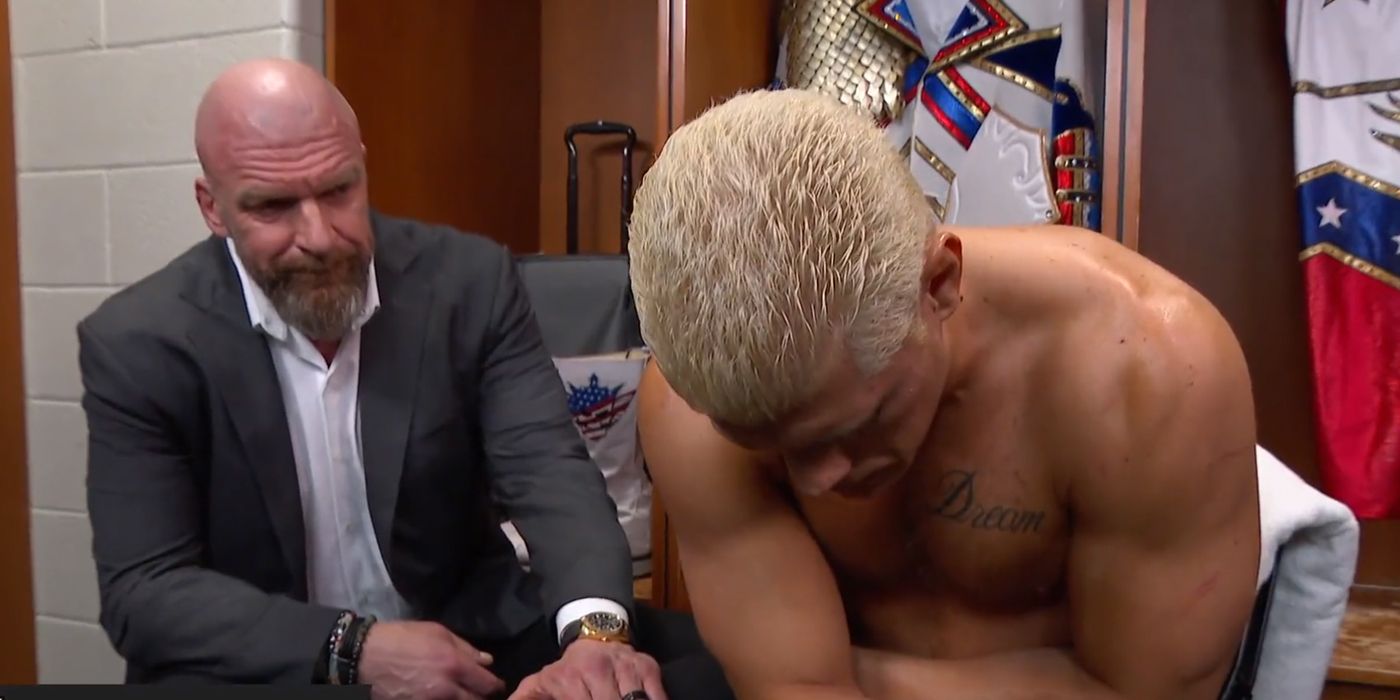 The recent interaction between Cody Rhodes and Triple H on Monday Night Raw has generated quite a stir among wrestling fans after the three-hour show. It was an unexpected sight to see these two personalities together on camera, especially considering the implied history of AEW and WWE between them, particularly Cody's act of destroying Triple H's throne in All Elite Wrestling (AEW).
During the show, Rhodes suffered what appeared to be a broken arm at the hands of a brutal attack by Brock Lesnar, but he flatly refused to seek medical attention. Triple H was brought in to calm Cody down and perhaps talk him out of wrestling at the Night of Champions premium live event, but it didn't work. Fearful that his injury would sideline him and determined to participate on Saturday, Rhodes declared, "I'm going to Night of Champions and I'm going to fight Brock Lesnar!"
This statement helped build Rhodes as the underdog for Saturday's fight, as well as demonstrate his resilience and unwavering commitment to ending his story with Lesnar. After Triple H tried to tell him that there was no reason to doubt his toughness, but suggested that he take care of himself, Rhodes then turned to Triple H and asked what the WWE executive would do in his situation. Highlighting the irony of Triple H advising others to step aside. Ultimately, Triple H offered a supportive pat on the back to his former executive foe.
Related: Raw Winners & Losers: Cody Will Be On Night Of Champions, Broken Arm And All
What does this all mean?
The interaction between Triple H and Rhodes during this homecoming segment for Night of Champions had multiple levels of significance. He subtly referenced the supposed friction that fans believe could exist, or be used as a story, between these two. There was a level of mutual respect and understanding, but the exchange also gave fans pause, as if to suggest there's a future narrative here where a detour might be in the mix.
Ever since the segment aired, fans have been intrigued as to why WWE would put these two together on screen. Is this simply to sell Cody as an artist who can fight against the worst possible odds? Or will the dynamic between Rhodes and Triple H, fueled by their personal and professional histories, expand on future shows?