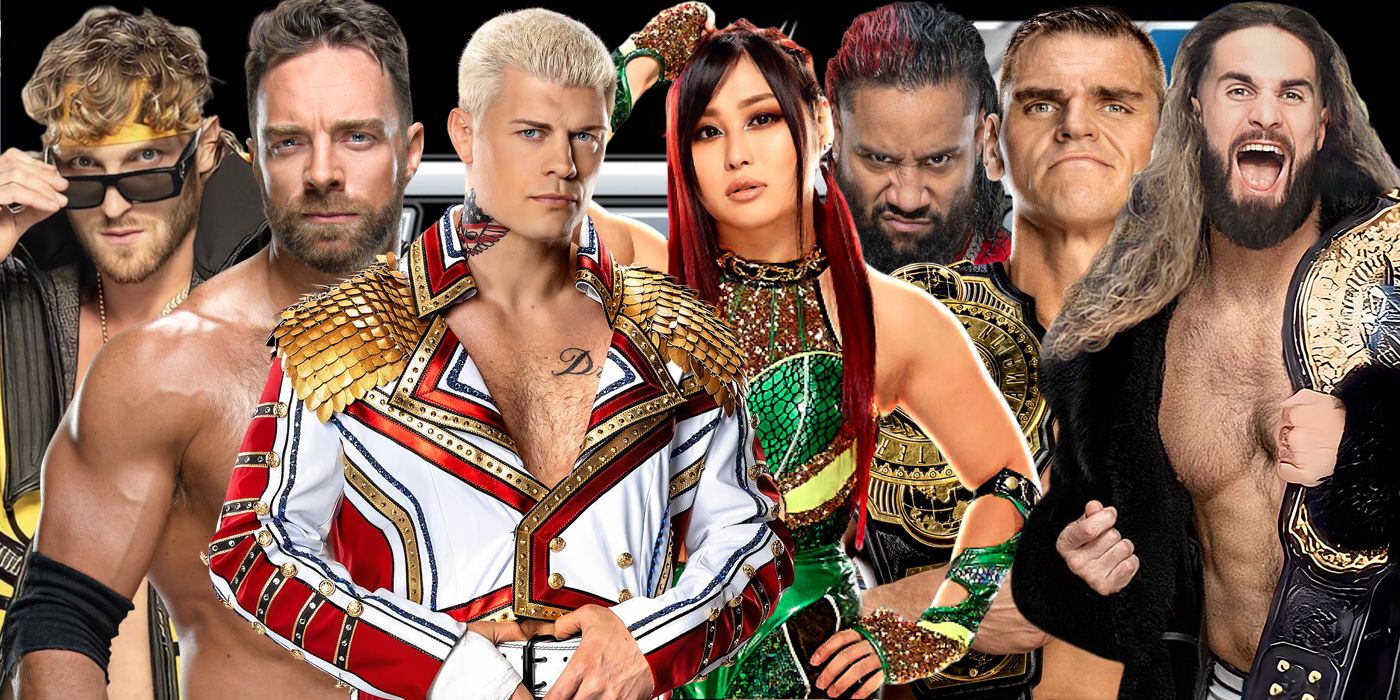 SummerSlam featured four main events and was a stacked card, even with a handful of WWE Superstars left off of the show. The action started with a great display of athleticism as Logan Paul and Ricochet put on a show, Cody Rhodes and Brock Lesnar followed with a fantastic rubber match, and the action kept coming fast and furious with LA Knight finally getting his moment.
Here are your winners and losers for SummerSlam, 2023:
Winner: Logan Paul Defeats Ricochet With Brass Knuckles
It was rumors weeks ago that Logan Paul wanted to go on first, not only to set the stage for the rest of the show, but also to catch a private jet to join his brother Jake Paul in his fight later in the evening. The fact that Logan Paul might have been in a hurry to get in and out of Detroit didn't affect his match with Ricochet. This was as good as one would expect when these two were matched up on paper.
Paul consistently surpasses expectations, and this might have been his best showing to date. This contest was full of high-risk moments and the two men were given time to showcase how incredible they could make a match where high-octane action could mix with moves that were just about flipping around. They told a story, and it wasn't a coincidence that the bout ended with brass knuckles taking out Ricochet.
Winner: Brock Lesnar Passes The Torch To Cody Rhodes
The second match of the night was much different than the first but no less entertaining. This was a hard-hitting affair that the crowd was really into. Lesnar tried everything in his power to hand Cody a beating of epic proportions, but Rhodes wouldn't concede. Eventually, The American Nightmare beat the Beast Incarnate with three Cross Rhodes finishers.
The match finished with Lesnar raising the arm of Rhodes and sending the message that he was passing the torch and acknowledging that Cody was now the man. In their rubber match, Cody came out on top and Lesnar showed his respect.
Winner: LA Knight Wins The SummerSlam Battle Royal
A Battle Royal that was dominated by Omos in the early going, was really a smokescreen to get LA Knight over in the final moments of the match. Knight picked up a massive win, taking out Sheamus as the final competitor and the fans went absolutely nuts, hoping that the Megastar was going to be the victor.
This contest teased Knight winning but also dangled that he might not, getting fans on the edge of their seats more than once throughout the eliminations. This has to be the official kickoff of Knights' ascension to the top of the card as WWE has to recognize just how over Knight is with the fans. Most of the sequences in the match were set up to get him to pop the crowd as much as possible and it worked like a charm.
Winner/Loser: MMA Rules Match
A match that seemingly didn't have rules until the match began, the Ronda Rousey versus Shayna Baszler had strong moments and not-so-great ones. There were times the format of the contest made for interesting viewing, but also times when logic was thrown out the window. That made the bout less than ideal and slowed the pace at times.
In MMA, fighters go after their opponents until the official calls the match. In this one, the action consistently stopped when a "fighter" was in trouble. Considering it was tap-out, pass-out, knock-out, that made little sense. All that said, the fans stayed invested and didn't turn on the competitors, which often happens in these gimmick matches. Baszler picked up the win with the reverse choke and Rousey passed out, which led to the referee calling for a stoppage.
This was a big win for Baszler and it will be intriguing to see if WWE capitalizes on it.
Winner: Gunther Retains His Title Against Drew McIntyre
A match that promised to be hard-hitting came as advertised. Gunther and McIntyre went to war for a good 15 minutes, blasting each other with hard shots and chops that will leave a lasting impression for at least a couple of days. Gunther eventually pulled out a win with a powerbomb and retained his Intercontinental Championship, creeping closer and closer to The Honky Tonk Man's reign.
It makes sense to have Gunther retain, especially if the plan is to paint the picture he's the most dominant IC Champion ever. That said, McIntyre's return to WWE now includes a loss in his first big match. There have been teases of a heel turn. Could that be what's next?
Winner: Rollins Retains Over Finn Balor
A match that was highly entertaining and a lot of fun, Judgment Day got involved in Finn Balor's match with Seth Rollins, but it ended up costing Balor as Damian Priest left the Money in the Bank briefcase in the ring, only for Rollins to use it and Stomp Balor on it. This contest was full of close pins and great action and the crowd was on fire for it. In fact, part way through, the live crowd shifted to cheering for Balor to get the win.
There will be fallout as Priest and Balor are bound to have issues with the way things ended. Once that dust settles, it appears WWE is gearing up for a Rollins versus Priest rivalry.
Winner: Bianca Belair Wins Title, Then Iyo Sky Cashes In
With a bad knee and locked in a Figure 8, Bianca Belair was able to roll up Asuka to win the Women's World Championship. This was a solid match that took a minute to get going, but once it found its groove, was really good. But, as good as the match was, the 15-plus minutes of action was outshined by Iyo Sky seizing an opportunity to cash in on Beliar's weakened knee and win the title.
The closing moments of the match featured Asuka blowing mist in the face of Charlotte, but as she tried to kick Belair, got caught and pinned. Belair was elated, but injured. The Genius of the Sky came to the ring, attacked, hit the Over the Moonsault and won the title. Damage CTRL celebrated and even Dakota Kai was in attendance to be with her during the celebration.
Winner: Jimmy Turns On Jey
In the main event, Roman Reigns retained the Universal Championship after help from Jimmy Uso, who turned on his twin brother Jey. Jey neared victory with a superkick and Uso Splash. When he went for the cover, a hooded figure appeared and pulled him out of the ring. Jimmy hit a superkick and then threw him back for Reigns to hit with a Spear through a table for the win.
The story continues to unfold with The Bloodline, every layer changing with each successive premium live event. There are so many directions these narratives can unfold, WWE literally has months more of this onion to peel back before it ever gets old. A great match, followed by a shocking twist to end the summer's biggest show.