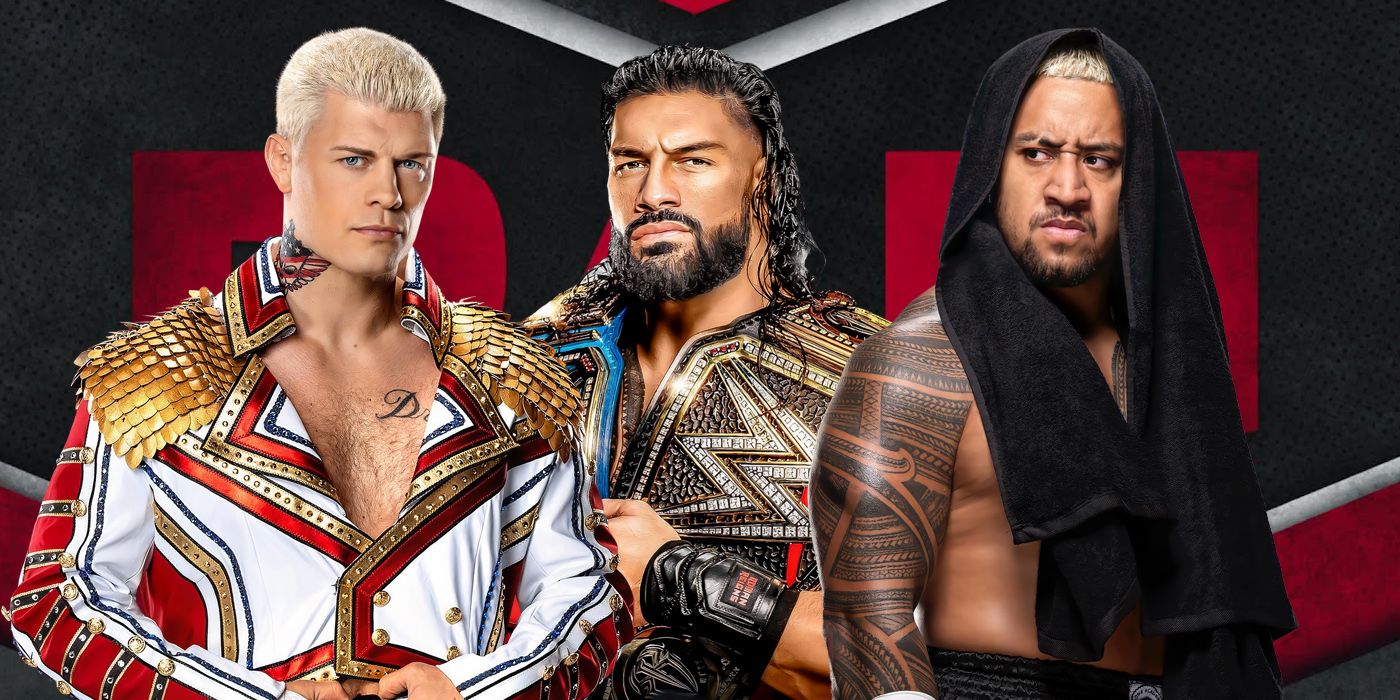 This week's Monday Night Raw picked up where Friday's SmackDown left off. Sami Zayn and Kevin Owens took the ring and were clearly on the same page. Would a match between those two and The Usos be made official?
Winner: Owens and Zayn Vs The Official Uses
WWE wasted no time getting things off to a strong start. Owens and Zayn were called the WWE Undisputed Tag Team Champions and wanted a shot at WrestleMania. The Usos came out and was hesitant at first, but ultimately, Jey decided this was the best way to get rid of his issues with Zayn and Owens. Things broke down and the four of them fought around the ring. Things came to a halt when Roman Reigns, Paul Heyman, and Solo Sikoa arrived at the arena.
This match was a long-rumored announcement that WWE finally confirmed. It will be absolutely off the hook.
Winner: Montez Ford Vs Austin Theory
Ford was looking for revenge after Angelo Dawkins put the STFU on him last week. Ford put up a good fight, but Theory was able to make it to the A-Town Down for the win. Theory and Ford can go and they proved it in an entertaining back-and-forth match full of action and high-flying moves. The result may have been predictable, but that didn't hurt things.
Backstage, Roman wanted to speak to Jey Uso in private and wanted to know where Jey had been. Reigns called out Jey for making decisions and said that he needed to be a part of The Bloodline. Reigns wanted to know if Jey was still part of the family and Jey said yes.
Loser: Omos crushes Mustafa Ali
In theory, this match was a good idea. WWE wanted Omos to look unstoppable and Ali is a great salesman. The only problem here was that there was too much time between offensive moves and the match was too short to be effective. In fact, the way this happened gives the impression that his match with Brock Lesnar could be a disaster.
Winner/Loser: Fight between Logan Paul and Seth Rollins
Logan Paul was in the ring and responding to the crowd above him. Paul took all the cheap shots he could in the St. Louis hearing. It wasn't exactly clear if Paul was trying to get the crowd to boo him or if he was actually getting annoyed by Paul's comments about no one liking him. Paul showed a replay of him knocking out Rollins, adding a clown emoji to the footage. Suddenly, his microphone cut out and it was learned that Rollins was in the production truck and playing. He played his own theme song and strutted to the ring.
It looked like Rollins was going to speak and instead opted to give him a double leg and the two wrestled to the outside. Rollins tried to throw Paul on the table. Security got in the way and when Rollins got up, Paul knocked him out again. When Rollins came to, he was furious. Paul was already at the entrance by then.
Loser: Johnny Gargano
This was a decent match between Gargano and Dominik, but Gargano's involvement on the show was clearly to connect NXT Stand and Deliver. The promotion is great, but the loss of Gargano before his feud with Grayson Waller on NXT seemed like a miss. Dominik got the win after landing a frog splash on Gargano's back.
Good win for Dominik. It wasn't a great night for Gargano leading up to a big main event. Dom called his father and warned Rey that he was not going to stop chasing him and said that he planned to make a statement when the entire Mysterio family was on SmackDown.
Edge recorded a promo in the dark saying that Finn Balor should bring his demon to meet his devil. The hint here was that both men would appear as alternate gimmicks than they are each week.
Winner: Chad Gable vs. Ricochet
If you were to pick two competitors on WWE's current roster that you knew would have a good match and put them in the ring together, Chad Gable and Ricochet would/should be at the top of that list. These two showcased their skills in a singles match meant to further the Fatal Four-Way tag match.
The only downside was that the storyline turned into Maxine Dupree going downstairs and getting Otis's attention. The distraction caused Gable to lose. Still, this was easily the best match of the night.
Winner: Rhea Ripley vs. bayley
Ripley did a Charlotte Flair promo when Damage CTRL came out sarcastically offering her help as an ally. Ripley didn't want his help and that meant Bayley was happy to target Ripley in his place. Ripley seemed dominant until the numbers game caught up with her. That brought in Becky Lynch, Trish Stratus, and Lita to make sure the fight was fair. The distraction was enough to lead Bayley to a headbutt and Riptide for the loss.
Outside of Damage CTRL unexpectedly feuding with Ripley, this segment worked well to cast Ripley as a big threat and kept up the back and forth between Damage CTRL and their WrestleMania opponents.
The show closed with a promo featuring Cody Rhodes and Roman Reigns, who had Solo Sikoa and Paul Heyman by their side. Reigns sent The Usos away. Reigns called out Cody for always running away. How was he going to end his story if he never ends anything?
Cody admitted that he ran away, but said that what he did when he ran away was to make all the wrestlers a lot more money. He warned Román that April 3 will be a difficult day because his winning streak will end, he will not have the titles and his family will also leave him. Reigns looked like he was going to respond and just walked out of the ring. He just got into Cody's face, but was stopped by Roman after his first attempt at a Samoan Spike failed.