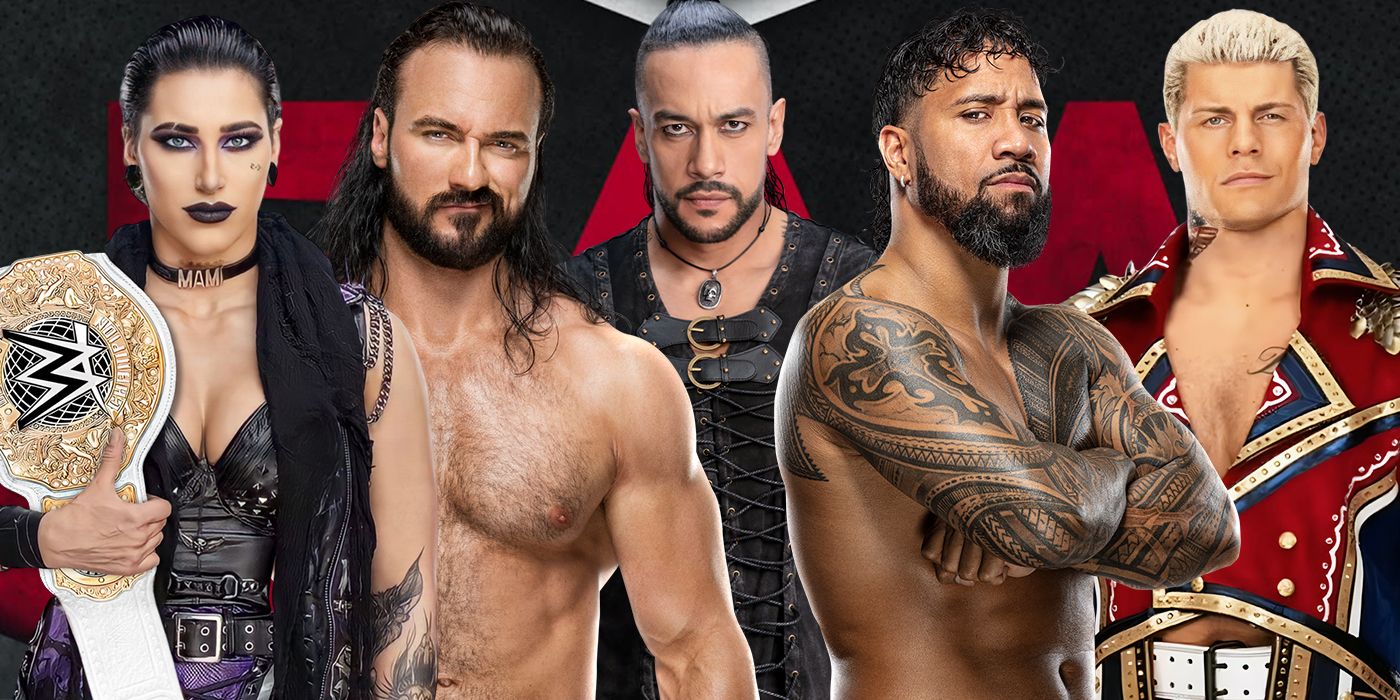 On the latest episode WWE Raw, Judment Day made their presence known. Finn Balor and Damian Priest bragged about reclaiming the Undisputed WWE Tag Team Championships and Damian Priest had a match with Jey Uso after the duo took out Cody Rhodes. The rest of the night included excellent in-ring action, including a Women's Championship match.
This electrifying at times) episode also marked the return of social media sensation Logan Paul and a high-stakes battle between Drew McIntyre and Sami Zayn.
Here are your winners and losers for Raw, October 23, 2023:
Winner: Cody Rhodes Taken Out by Judgment Day?
In the night's opening segment, anticipation for the Crown Jewel match between Cody Rhodes and Damian Priest reached a fever pitch. However, The Judgment Day, not content to wait, launched a surprise attack on The American Nightmare. Rhodes bravely interrupted the opening promo, only to find himself outnumbered. Even the intervention of Jey Uso couldn't prevent Priest, Balor, and JD McDonagh from ruthlessly targeting Cody's leg, smashing it with a chair against the unforgiving steel steps. Backstage, Cody's injury was evident, raising doubts about his ability to compete at Crown Jewel. While another injury angle wasn't what Cody needed, the segment undeniably captivated the audience.
With Rhodes seemingly incapacitated, the burden of facing The Judgment Day alone fell upon Jey Uso in the main event, setting the stage for an intense battle. It shouldn't be a surprise if Cody makes a miraculous return by the end of the night to help Jey.
Winner/Loser: New Day Defeats Alpha Academy
WWE is doing a much better job with their tag team division, and the first match of the night was a showcase of two of the division's top teams. New Day clashed with Alpha Academy, each team vying for a shot at the championship. Alpha Academy had Akira Tozawa with them (he was in training), but it wasn't enough to secure them the victory. In a hard-fought battle, Kofi Kingston and Xavier Woods emerged victorious against Chad Gable and Otis.
Not only was the match strong, but WWE seems to have hit another home run by attaching Tozawa to the mix. He's hilarious and he fits right in the odd mix of the Academy. The downside of the bout was having the more over group in Alpha Academy lose. They are the hotter act and it would have meant more for them to pick up a win against another pair of babyface contenders.
Still, this was a strong match with some fun sprinkled in.
Winner: Indi Hartwell
Becky Lynch came out the winner and successfully defended her title one night before having to defend it at Halloween Havoc, but this was a great showing for Indi Hartwell in defeat. She did about everything she could and controlled most of the match. She often outsmarted and outpowered The Man. Frankly, the only thing she didn't do was win. Lynch keeps giving props to those contenders she's beating. It would be interesting to see if Lynch makes a Survivor Series team out of her fallen opponents, showing how much respect she has for the level of competition the provided.
After the match Xia Li attacked Candice LeRae with a smack to the face and issued a warning to her and Hartwell. It's not clear why she did so, unless she was just trying to make a statement that she wanted a shot at the title, but then why attack LeRae?
Loser: Women's World Championship Contract Signing
Last week was chaos in the Raw women's division. This week was too, only General Manager Adam Pearce tried to control it. He hosted a contract signing featuring Nia Jax, Raquel Rodriguez, Zoey Stark, Shayna Baszler, and Women's World Champion Rhea Ripley. Knowing things were likely to break down, he brought in number of security guards, all of whom took a beating as the women went after each other.
Ripley stirred the pot by mocking everyone from ringside. Jax said she knew what Ripley was up to and teased everyone for being the monster who was supposed squash everyone for Ripley to hold her title. Ripley was the one pulling the strings with all of the other members of the match trying to assert their dominance.
It was Jax left standing and staring down Ripley when the segment was all said and done. This wasn't terrible, but it certainly wasn't great. Jax did a decent job on the mic, but everyone not named Ripley and Jax looked rather insignificant.
Winner/Loser: Johnny Gargano vs. Giovani Vinci
This wasn't an awful match by any means. That said, WWE might have been better served to simply have this as a tag team bout between Imperium and DIY. Tommaso Ciampa made his return and chased Ludwig Kaiser from the ringside area so Gargano could land the win with the One Final Beat finisher. It goes without saying that both Kaiser and Vinci will have to deal with a very unimpressed Gunther next week.
The tag match between the two teams will take place next week.
Winner: Logan Paul and Domink Troll Rey Mysterio
Logan Paul made his return to WWE Raw and while he was talking down Dillon Danis getting dropped by his fight team, he took a verbal shot at Rey Mysterio, which brought out Dominik from the back. The two clearly hit it off and showed a smattering of somewhat sarcastic mutual respect. Paul then drew attention to Samathan Irvin who was at the ringside table and asked her to come into the ring. He wanted to show her praise and when she reluctantly accepted, he began to mock her for having to announce his name when Paul beat Ricochet in their previous matchup. Ricochet stormed the ring and took out both Paul and Dirty Dom, suggesting this feud was anything but over.
Paul did a great job on the mic, but WWE needs to stop turning Dom's mic down. It's lame and blatantly obvious that they're prompting the crowd to boo, which they love doing anyway. Just let Dom stop talking when the boos get too loud. It serves the moment better and the fans will respond accordingly. Whoever had the idea to do this needs to admit it was a bad one and cut it out. Ricochet officially gets Dom in the ring next week on Raw, the go-home show to Crown Jewel.
Loser: Natalya and Nikki Cross vs. Piper Niven and Chelsea Green
Natalya was left without a parnter after Tegan Nox was injured during her NXT match. She found a partner in Nikki Cross and the two women challenged Chelsea Green and Piper Niven. Cross appeared detached, showing a complete lack of enthusiasm, while Natalya endured a relentless assault from her opponents, ultimately succumbing to defeat. Cross was later seen walking arounda aimlessly, including in front of Adam Pearce who had another slight run-in with Nick Aldis — who appeared to be trying to poach Raw stars to SmackDown.
RELATED: Conflicting Reports Over WWE's Plans For Survivor Series Format
The problem here is that the women's tag titles, once again mean nothing. Green and Niven are an interesting duo, but with no real challengers to compete for the titles, WWE is throwing together anyone that Nattie can find to team with.
Winner: Drew McIntyre vs Sami Zayn
The best match of the night, not only was this a solid contest, but Rhea Ripley's involvment at the end really leaves questions as to where Drew McIntyre stands. She caused a big enough distraction that McIntyre was able to land a Claymore Kick for the win. He seemed fine with winning that way, but didn't acknowledge Ripley on his way out the ring.
These two went toe-to-toe in a display that fans were into. They got a "this is awesome" chant and it was well deserved. Ripley seems to be trying to inject herself in the narrative of a few stars and the hint here is that it might be working with The Scottish Warrior. Seth Rollins ran into Drew backstage an accused him of working in tandem with Judgment Day. Drew said he noticed Rollins was talking to Rhea earlier and didn't turn down her offer of protection.
Winner: Bronson Reed Squashed Akira Tozawa
It was quick, but it was a match the crowd got into. Tozawa is a fan-favorite, but so is Reed in a much different way. The WWE Universe can't get enough of Tozawa's goofiness and his comedic timing is excellent. Meanwhile, the fans look forward to the big Tsunami off the top rope from Reed and on a smaller guy like Tozawa, the audience was on their edge of their seats when he hit the move. Short, but fun.
Winner/Loser: Damian Priest Beats Cody
This main event felt a bit lacking, even though the match itself was adequate. Finn Balor came down to the ring to help Priest and he caused a big enough distraction to get Priest the win. As Judgment Day was setting up to attack Jey after the mathc, Cody came down, his foot clearly a problem and started to blast Priest with a chair. He went to go eye-for-an-eye when he put Priest's leg in the chair. Balor dragged his partner to safety.
Cody tried to keep getting at the heels, but the officials stood between them, trying to keep the peace.