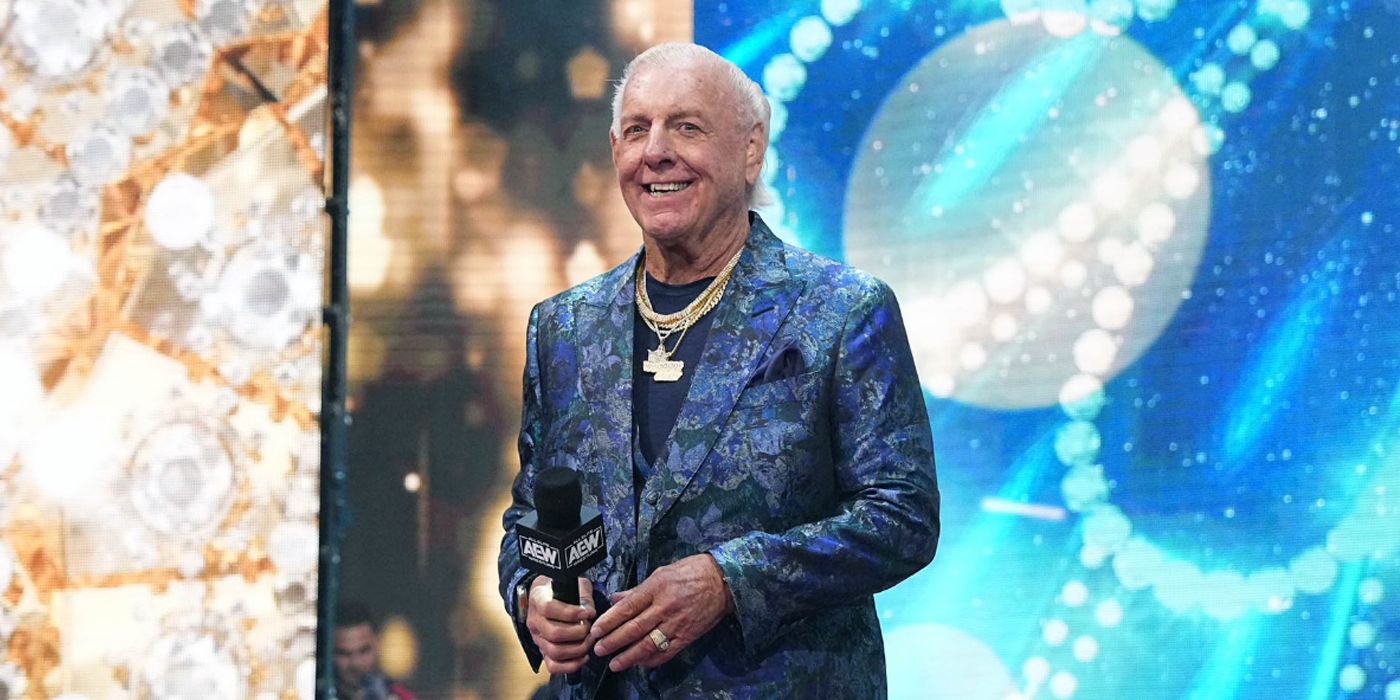 Highlights
Ric Flair's contract with AEW remains a mystery, as the company has not officially confirmed his signing.
Flair's involvement in AEW is speculated to be limited, potentially focusing on Sting's retirement storyline.
While Flair may desire to wrestle again, his physical condition raises concerns, making it unlikely that he will have a match in AEW.
Wrestling legend Ric Flair has set the internet abuzz with his recent appearance on AEW Dynamite, but the specifics of his contract with the promotion remain a mystery. Flair, who appeared alongside his longtime friend Sting, hinted at an ongoing journey with AEW in a tweet, expressing his excitement about working with Sting. He tweeted, "I'm Ready For This Journey In @AEW With My Dear Friend The Icon @Sting! WOOOOO!" he wrote on Thursday. AEW retweeted his post, but they have not made their typical announcement that Flair is All Elite, as they often do when the company signs someone to a contract and for more than one appearance.
The fact that AEW has not officially confirmed Flair's signing indidates a potential week-by-week, or month-by-month arrangement. It is speculated that Flair's involvement might be limited, focusing on Sting's retirement storyline. Even then, he's unlikely to be around every time Sting is on television. It didn't take long for the company to cut a promo with Adam Copeland, Sting, and Allin, quickly clarifying that Flair won't be Sting and Darby Allin's mystery tag team partner at Full Gear. This emphasizes his non-central role in storylines.
RELATED: Ric Flair Makes AEW Debut As Special Gift For Sting
Don't Expect Ric Flair To Wrestle in AEW
While Flair has expressed a desire to wrestle again, his physical condition raises concerns. Observers noted his limited movement during his AEW appearance. And, while anything is possible and Flair may push for one more match, right now, that's likely not in the cards.
Despite this, Flair's sporadic presence adds significant weight to Sting's farewell, enhancing the event's historic aura. If Flair plays a bigger role on a show-by-show basis or comes back for big Sting matches along the way, it's simply an addition for AEW.
AEW fans and wrestling ethusiasts eagerly anticipate how AEW will utilize Flair, with possibilities ranging from occasional appearances to pop-ins during occasional high-stakes matches. Although details are scant, Flair's association with AEW promises an intriguing chapter in his storied career. As more is offered from both Flair and AEW, we'll be sure to keep you updated.