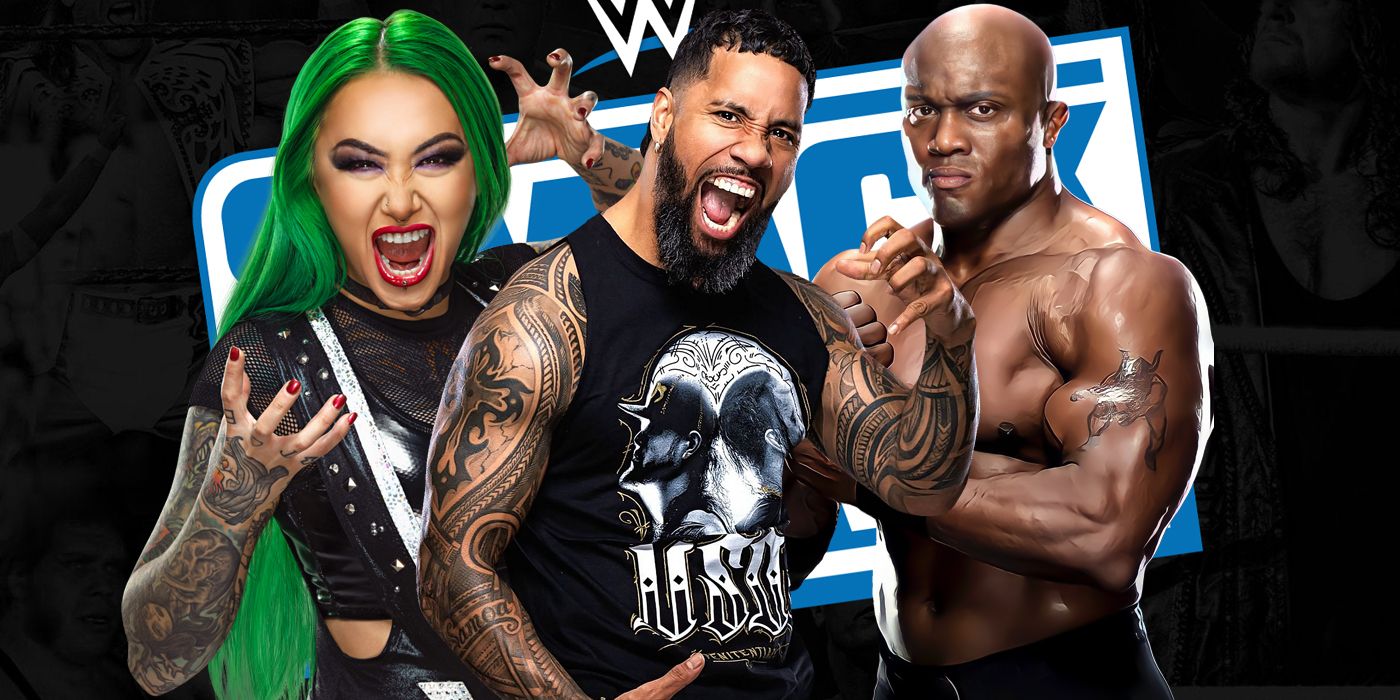 This week's SmackDown didn't get much publicity on the show, but the blue brand was able to spit out two hours of useful entertainment, highlighted by a main event match between Bianca Belair and Asuka for the WWE Women's Championship. Also on the show was the first ever United States Invitational Championship qualifying match, LA Knight got a big pop, Jey Uso attacked Paul Heyman and Solo Sikoa, and Bobby Lashley returned.
These are the winners and losers of SmackDown, July 14, 2023:
The opening segment with Bianca Belair and Charlotte Flair felt awkward. These were two main competitors in the women's division who don't have a clear direction for their respective characters. It's hard to tell if they're heel or babyface, and both spent the first few minutes of the show passive-aggressively congratulating each other. Charlotte wanted to make sure Belair knew she was next in line if she won. Belair said it would be a great matchup.
That was the crux of the promo and it just wasn't great.
Winner: Pretty Deadly wins again
The first match of the night included the Brawling Brutes, featuring Sheamus and Ridge Holland, against Pretty Deadly. Once again, Pretty Deadly wins, making them one of the best teams in WWE right now. Using intelligence from him again, Ridge was sent throat first into the exposed turnbuckle and that was enough to allow Elton Price to land a leg drop off the top rope for the win.
WWE clearly sees something in this team. They are being given time to fight, interesting ways to end matches, and multiple wins.
Grayson Waller did a backstage interview where he talked about how impressive he's been since he debuted on the main roster and said that even The Rock was mentioning him on social media trying to get that rub off of Waller.
After the commercial break, WWE showed the highlights of last week's main event segment featuring the Trial of the Tribal Chief.
After a fairly quiet match between Bayley and Zelina Vega, Shotzi appeared on the big screen as Bayley tried to enjoy her victory with Iyo Sky. Shotzi seemed upset and said that she might be a little weird, but she's okay because she's still in control and she's not scared or affected by Bayley's haircut last week.
This was a cool one-off promo that worked to sell Shotzi as someone Bayley should be worried about. Shotzi shaved her head, saying again, "Maybe I'm a little weird." The match was nothing great (not terrible either), but the promotion was excellent.
Winner: Jey eliminates Heyman and Solo Sikoa
Jey Uso was in the ring to do a promo and called out Roman Reigns who hurt his brother. Citing the link between the twins, Jey swore revenge. Heyman and Solo Sikoa came to the ring and told Jey that Reigns would be on SmackDown next week to discuss the rules of engagement for their future match. Heyman then told Jey that it was a shame he didn't understand that Jimmy's condition was Jey's fault. He said that no one in the family would ever forgive him and then Solo spoke, saying that he would never forgive him either. Things escalated into a brawl and Jey took out both Sikoa and Heyman.
This was a strong segment with a number of great moments. Jey was on fire promoting him, engaging the crowd and using the annoying "What?" sing for him. Heyman was excellent as always and speaking to Sikoa was a moment not to be ignored.
Winner/Loser: United States Championship No. 1 Qualifying Match
AJ Styles, Santos Escobar, Butch and Grayson Waller squared off for the chance to advance to the United States Championship Invitational. Escobar secured an important victory helped by the distraction of Karrion Kross, who attacked The Club backstage. It was strange that Waller wouldn't let AJ Styles leave to help his friends, but it didn't dramatically affect the idea that this was an opportunity to continue telling the story between Styles and Kross.
The fight itself displayed excellent pacing and fun action with Escobar being perhaps the biggest surprise of the fight. This United States Invitational Championship feels like it hasn't been promoted. The hope must be that the in-ring action helps sell the importance of these matches.
Winner: Bobby Lashley Returned
Street Profits were shown outside the arena waiting for someone. A limousine pulled up and Bobby Lashley got out. He asked if they were ready to talk and ushered them into the limo, which he drove off. It's unclear why Lashley wants to speak to The Street Profits, but the immediate assumption from fans will be that he might be forming a new Hurt Business. Even if that's not true, it's a fun idea to speculate about.
Winner: L.A. Knight
SmackDown aired a series of pre-taped United States Championship promos featuring the next week's contenders. Sheamus, Rey Mysterio and Cameron Grimes talked about their chance to go for that title. Only LA Knight got a live promo and the crowd cheered wildly when he walked out.
It will be fun to see Knight's build now that WWE seems to have realized that they can't prevent the inevitable. He will be competing in next week's qualifier and it will be interesting to see how the company books him.
Loser: Women's Championship Chaos
Like the opening segment of the show, this main event segment flopped. Asuka versus Belair was okay in terms of the ring, but everyone involved in the title scene was close to ringside because they all had tickets to the fight. Often, that's just lazy writing, forcing fans to believe that all these stars have front row seats or that security would just let anyone with a ticket stand at the barricade and watch. Of course, they all got in on the action as well, forcing a disqualification and annulling the match.
Also, as she did the last time the women's title was up for grabs, Iyo Sky tried to cash in her Money in the Bank briefcase, only for Asuka to stand up and mist Bayley and walk out of the ring. Another failed cashout closed the show.