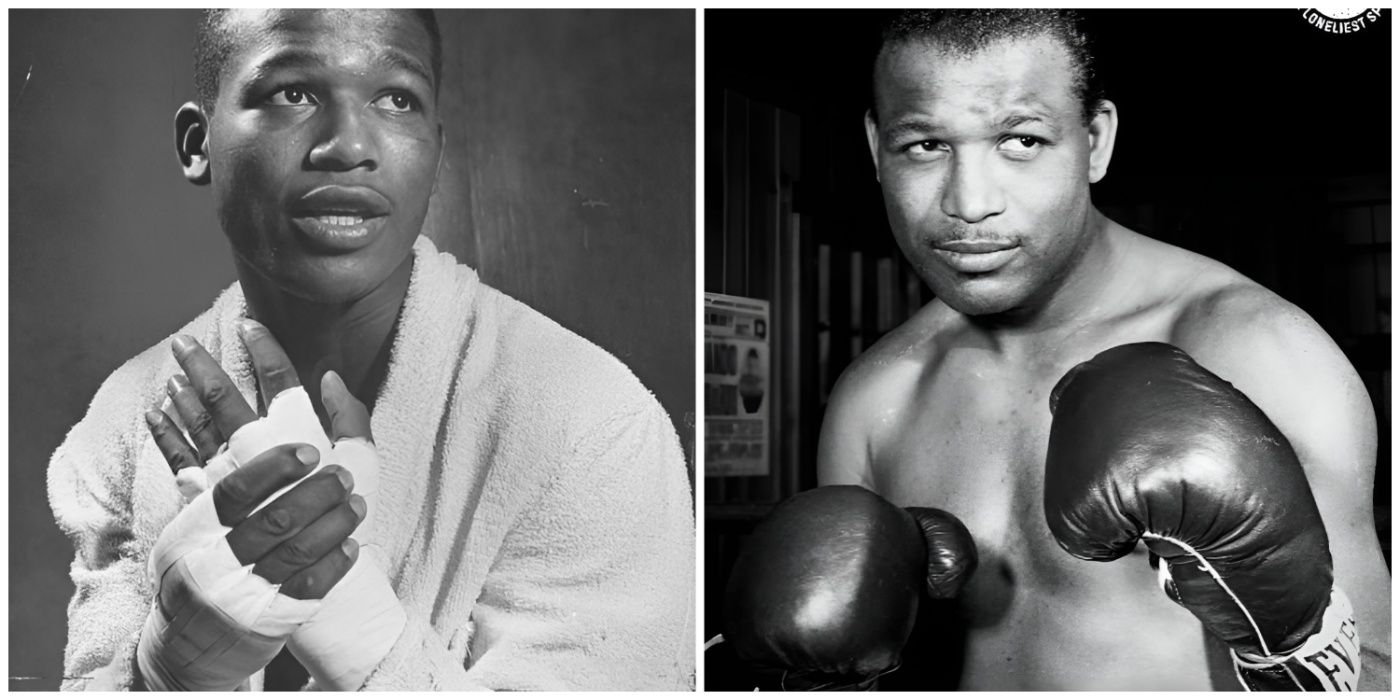 Sugar Ray Robinson, born Walker Smith Jr. on May 3, 1921, was no ordinary man. His story is one of exceptional talent, perseverance, and a tragic end that left an indelible mark on the world of sports. Muhammad Ali called Sugar Ray "the king, the master, my idol."
Boxing aficionados and experts unanimously hail Robinson as the pound-for-pound greatest boxer in history. He effortlessly soared to the top three ranks in both the welterweight and middleweight classes. With an astounding record of 85 amateur and 40 professional fights, he didn't suffer a defeat until his 132nd professional bout! Robinson's mesmerizing style would transform the sport into a captivating art.
Related: The Tragic Death & Legacy Of Boxing Legend Arturo Gatti, Explained
The Birth of a Legend
Robinson's journey commenced in the rural town of Ailey, Georgia. Born as Walker Smith Jr., Robinson was the youngest of three children. His father moved the family to Detroit and worked tirelessly to support his family. Robinson only remembers seeing his father on a Sunday. After his parents separated, Robinson moved to Harlem, New York, with his mother at the age of 12.
Initially aspiring to be a doctor, he changed his path after dropping out of DeWitt Clinton High School in the Bronx during the ninth grade, setting his sights on boxing. At the age of 14, Robinson's boxing journey hit a roadblock when he attempted to enter his first tournament but was informed that he needed an AAU membership card, which he couldn't obtain legally until he turned 16.
Determined to circumvent this age requirement, he borrowed the ID card of a youth named Ray Robinson who had quit boxing, thus starting his amateur career under this borrowed name.
The Moniker "Sugar Ray"
Robinson began his amateur fighting career under this borrowed name – and it stuck. Later, when a lady in the audience at a fight in Watertown, New York said he was "sweet as sugar," the name "Sugar Ray Robinson" was born, and he officially laid the foundation for an illustrious career that would transcend the confines of the boxing ring.
Unparalleled Boxing Career
Robinson's boxing career was nothing short of astonishing. With an astounding professional record of 173 wins, 19 losses, six draws, and 109 wins by knockout, Robinson's prowess inside the ring was unparalleled. He was a force to be reckoned with, an artist with his fists who painted masterpieces in every bout.
He achieved the New York Golden Gloves featherweight championship in 1939, defeating Louis Valentine on points in three rounds, and followed it up with the New York Golden Gloves lightweight championship in 1940, knocking out Andy Nonella in the second round.
But his prime years were marked by his dominance in the middleweight division. He captured the middleweight title not once, not twice, but an unprecedented five times. His reign was marked by extraordinary skills, dazzling footwork, and a charisma that drew fans from all walks of life.
The Robinson-LaMotta Rivalry
Few rivalries in boxing history have matched the intensity of the feud between Robinson and the "Bronx Bull," Jake LaMotta. LaMotta and Robinson engaged in a series of brutal battles that left an indelible mark on both men. Their ferocious rivalry stands as a testament to the golden era of boxing.
Retirement and Comebacks
Robinson was no stranger to retirement, having hung up his gloves several times throughout his career. Yet, what set him apart was his uncanny ability to make triumphant comebacks, often snatching victory from the jaws of defeat. Some of his comebacks include;
First Retirement (1952): Robinson initially retired from boxing in 1952, relinquishing his middleweight title. However, he couldn't stay away. He came back in 1955 challenging Carl "Bobo" Olson for the title. Robinson won the fight, reclaiming the middleweight championship and marking a remarkable return to the sport.
Regaining the Title from Gene Fullmer (1957): After briefly retiring for a second time, Robinson made a sensational comeback in 1957 to face Gene Fullmer, who had taken the middleweight title in Robinson's absence. In a dramatic bout, Robinson defeated Fullmer, becoming a five-time middleweight champion.
Becoming a Six-Time Middleweight Champion (1961): Robinson's resilience was further demonstrated when he came out of retirement again in 1961 to challenge Paul Pender for the middleweight title. He won the fight and secured his sixth middleweight championship, solidifying his status as a boxing legend with an unparalleled ability.
Fighting Joey Archer at Age 44 (1965): By 1965, Robinson was in the twilight of his career, but he continued to defy age and expectations. At the age of 44, he faced the younger and undefeated Joey Archer. Despite his age, Robinson displayed his exceptional skills and won the bout.
Last Fight Against Joey Maxim (1965): Robinson's last professional fight took place in 1965 against Joey Maxim. At the age of 44, he showcased his enduring spirit, although he didn't win the match. This final comeback, while not victorious, symbolized his unyielding love for the sport and his willingness to step into the ring even in the later stages of his career.
Related: The Death & Legacy Of Boxing Legend Sonny Liston, Explained
Life Outside the Ring
Beyond his boxing accolades, Robinson was a multi-faceted personality. He ventured into entertainment, showcasing his acting and musical talents. His magnetic charm transcended the world of sports, making him a household name.
Acting Career
Robinson appeared in several films, including a notable role in the 1957 film "The Square Jungle." His on-screen charisma and natural talent in front of the camera allowed him to make a mark in the film industry, expanding his influence beyond the boxing ring.
Music Endeavors
Robinson showcased his musical abilities by performing as a singer and even recorded songs. His versatility and charm captivated audiences.
Personal Losses
Behind the glitz and glamour, Robinson faced devastating personal losses and challenges. These events took a toll on his life and career, offering a glimpse into the man behind the gloves.
Divorced From His First Wife
Robinson married at 16 years old, and had one son, Ronnie, with his first wife. Unfortunately, the marriage ended in divorce when Robinson was just 19. This early separation marked the beginning of a series of personal challenges that he would face throughout his life.
Tragic Death of His Close Friend Jake LaMotta
While Jake LaMotta was one of Robinson's fiercest rivals in the ring, they developed a close friendship outside of it. The tragic loss of LaMotta in 2017 deeply affected Robinson. Their intense battles inside the ring were matched by a deep mutual respect, and LaMotta's passing was undoubtedly a sorrowful moment for Robinson.
Impact of Alzheimer's Disease
In the later years of his life, Robinson battled Alzheimer's disease, a devastating condition that affects memory and cognitive function. This debilitating illness not only took a toll on his personal life but also contributed to his eventual passing in 1989. Robinson's struggle with Alzheimer's serves as a poignant reminder of the challenges he faced in his later years.
A Tragic End
On April 12, 1989, Sugar Ray's journey came to a heartbreaking end. He succumbed to complications arising from Alzheimer's disease at the age of 67. The boxing world mourned the loss of a true icon, but his legacy lived on through tributes, commemorations, and the continued reverence of fans worldwide. His legacy is a testament to the enduring power of dedication, talent, and the human spirit, and will undoubtedly continue to captivate and inspire for years to come.
Related: The Death & Legacy Of Boxing Legend Joe Frazier, Explained