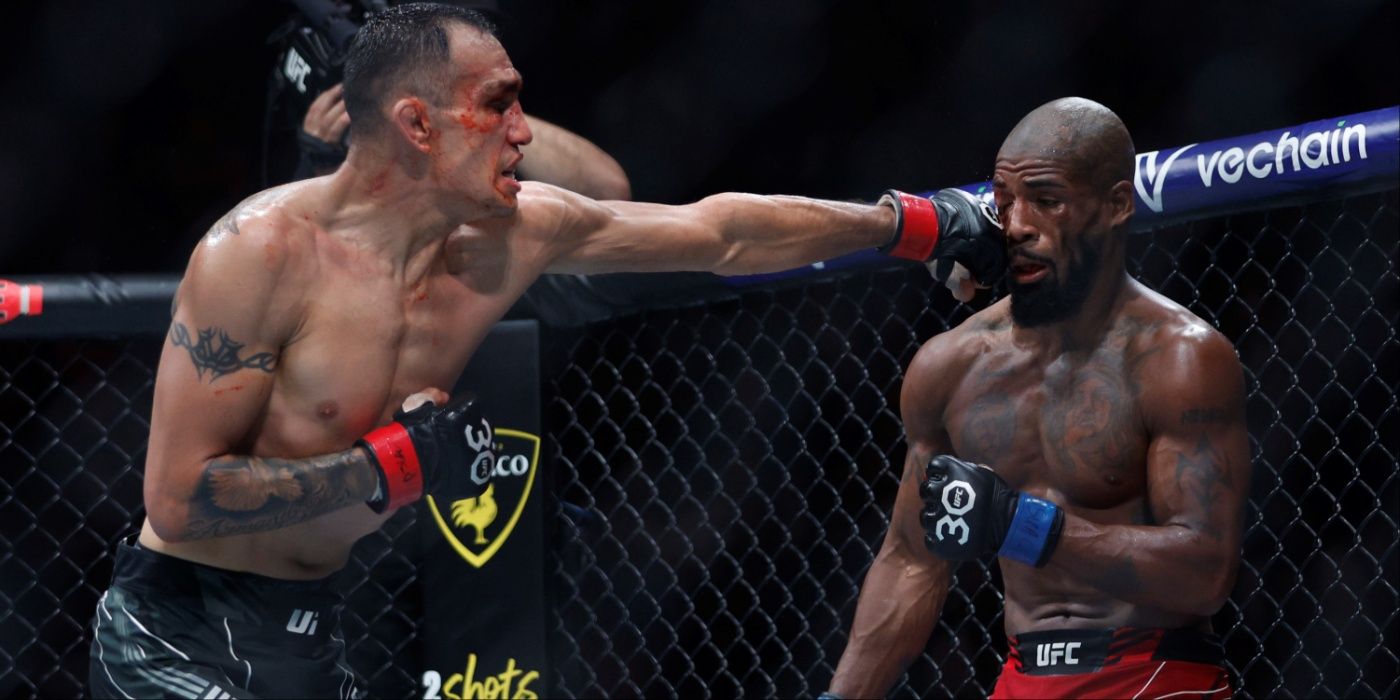 Highlights
Tony Ferguson's adaptation of Navy SEAL training for his MMA-style training has sparked scrutiny and concern from fellow UFC fighters.
Many fighters believe that Ferguson's intense training regimen, including hours of high-intensity cardio and excessive workouts, may ultimately slow him down in the fight.
Ferguson's opponent, Paddy Pimblett, finds his choice to engage in Navy SEAL training rather than focusing on his strengths, such as mental toughness and cardio, to be "really, really stupid."
As Tony Ferguson prepares for his UFC 296 showdown with Paddy Pimblett, his choice to engage in Navy SEAL training alongside David Goggins has sparked scrutiny.
Hell Week is a demanding phase in the training of aspiring Navy SEALs, designed to push them to their absolute limits. It entails enduring five and a half days of cold tolerance and physical endurance exercises, all on less than four hours of sleep. However, Tony Ferguson's adaptation of Hell Week deviates significantly from the traditional SEAL approach. As detailed in Goggins' Instagram post about their initial training day, the former interim champion underwent '3+ hours of high-intensity, tempo cardio, over 600 push-ups, tons of chest exercises, stair climber/assault bike/rowing/elliptical.'
Notably, Ferguson's version of Hell Week is specifically tailored to MMA-style training. The intensity of the session reached a point where Ferguson experienced vomiting. Despite the grueling nature of the training, he achieved the remarkable feat of becoming the first professional athlete to complete this challenging ritual, earning admiration from Goggins.
RELATED: 10 Interesting Facts About Tony Ferguson UFC Fans Should Know
Fighter's react to Tony Ferguson's Navy Seal training
Ferguson is known for his unorthodox style of training. However, the former lightweight interim champion who once went on a 12-fight winning streak has lost his last six fights. His latest change to his training regimen has left his fellow UFC fighters concerned. Former lightweight champion Rafael dos Anjos believes that Ferguson's training regimen with Goggins will ultimately slow him down in the fight. The Brazilian MMA star added that Goggin's workout would benefit his mental toughness, something 'El Cucuy' has in abundance.
UFC fighter turned commentator Chael Sonnen, asked Dos Anjos to elaborate while agreeing with his stance to which the fighter obliged, writing, "As we [fighters] get older we need to do "less" work, spent more time pre-and post-workouts. Focusing on specific training. We are fighting 15-25min, we don't need 1h-2h workouts. Short and specific practices. Def Gogging has a positive effect but for what I've [seen] too much work."
Former double-champ and UFC Hall of Famer, Daniel Cormier also expressed skepticism about the training regimen on his ESPN podcast along with former middleweight champion Michael Bisping, who also believes Ferguson should focus on MMA-style training.
RELATED: 10 UFC Fighters Who "Won" Despite Losing A Fight
Paddy Pimblett Reacts To Tony Ferguson's Preparation
Ferguson's opponent at UFC 296, was left perplexed by the UFC legend's approach to training. In an interview with MMA On Pont, Pimblett said his opponent's strengths are his "mental toughness and cardio," believing his choice to partake in Navy seal-style training is "really, really stupid." The British UFC star said Ferguson's time is better served to practice his jiu-jitsu due to his specialty in ground fighting.