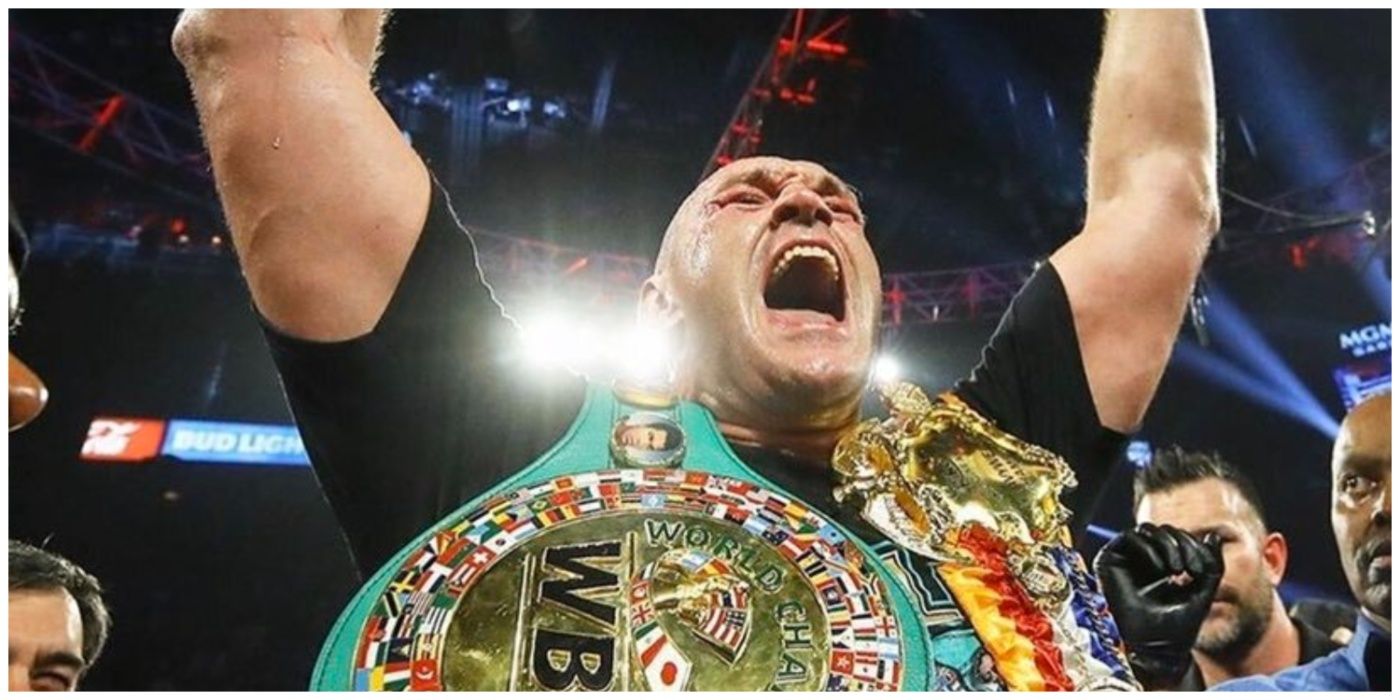 In the electrifying realm of sports, where athletes are lauded for their awe-inspiring physical feats and triumphant moments within the ring, there exists a shadowy narrative that often goes unnoticed. Behind the curtain of applause and victory, many athletes find themselves engaged in a relentless struggle that transcends the boundaries of the boxing arena.
Related: 10 Stories About Tyson Fury Outside The Ring Boxing Fans Should Know
In this nuanced landscape, Tyson Fury, the charismatic and indomitable British boxer, emerges as a poignant example. His battles with mental health have not merely lingered in the background but have commanded a spotlight as intense as the one that has shone on his victorious moments within the ring. A journey that traverses the towering highs of his boxing career, plummets into the abyss of mental health struggles, and rises phoenix-like through the flames of an inspiring comeback.
Early Success And Struggles
Tyson Fury burst onto the professional boxing scene with remarkable success, becoming the unified heavyweight champion in 2015 after defeating Wladimir Klitschko. Fury seemed to rule the world after toppling Klitschko with an epic display of British boxing prowess on unfamiliar turf. This pinnacle of his career was soon followed by a period of personal turmoil. Fury found himself grappling depression and substance abuse which threatened to derail his promising career.
Strike One
On December 8th, 2015, the IBF stripped Fury of his title, claiming that the contract for his fight against Klitschko had a rematch clause that prevented him from facing the IBF's mandatory challenger, Vyacheslav Glazkov. Fury had only held the IBF belt for a mere 10 days.
After months of back-and-forth negotiations, the rematch with Klitschko was finally announced on April 8th, 2016. This time, the fight was set to take place in Fury's very own hometown of Manchester on July 9th, 2016. However, despite reaching an agreement for the rematch, Fury confessed that he had lost all motivation. He had also gained a significant amount of weight.
RELATED: 10 WWE Rematches That Should Have Happened (But Never Did)
Strike Two
By April 2016, Fury weighed over 24 stone – and at his heaviest, sat closer to 400 pounds – so the match was once again postponed. And just when everyone thought this rematch was set in stone, news broke on June 24th, 2016, that the fight had to be postponed AGAIN due to Fury suffering a sprained ankle during one of his training sessions.
Strike Three
On the very same day that Fury injured his ankle during training, both him and his cousin, Hughie Fury, were charged by UK Anti-Doping for allegedly having a prohibited substance (nandrolone) in their systems, based on a sample that had been taken 16 months earlier in February 2015.
Of course, Tyson and Hughie were quick to deny the charge, asserting that they had nothing to do with it. However, the twists and turns didn't end there. On September 23rd, Fury once again had to postpone the fight after he was declared "medically unfit." ESPN reported that Fury had actually failed a drug test for cocaine on the day before the second postponement.
Revelation
The Break
On October 12, 2016, amidst ongoing investigations for the anti-doping case involving his cocaine usage and nandrolone findings, as well as being deemed medically unfit to fight, Fury made the difficult decision to relinquish his treasured world heavyweight titles. He expressed his belief that titles should be won and lost through actual competition, but given his inability to defend them at the time, he acknowledged the need to officially vacate the championships.
Although it was heartbreaking for fans to witness Fury stepping away from the world titles he had tirelessly pursued, the foremost priority then was ensuring he received the necessary medical treatment, surrounded by love from his family, and friends, so that he could make a full recovery.
'Attempted' Comeback
On October 13, 2016, the British Boxing Board of Control suspended Fury's boxing license. However, in December 2016, Fury's uncle Peter excitedly announced that Fury would be making a comeback in the spring of 2017, aiming for an epic fight against WBC champion Deontay Wilder.
Building up anticipation, Fury took to Twitter on 23 December, declaring that he was back on track, training hard for a triumphant return in April or May 2017. He posted a heartfelt message.
"I've had a rough 2016, made some regretful choices, but I promise you, I'll make a grand comeback in 2017."
The momentum continued as Fury shared on 6 March 2017 that his long-awaited return fight was scheduled for 13 May 2017, engaging in conversations with his then-current promoter, Frank Warren, to secure a worthy opponent. Excitement filled the air as the date coincided with Josh Warrington's title defense against Kiko Martinez, making Fury's return a thrilling undercard event at the electrifying First Direct Arena in Leeds.
Related: Colonel Bob Sheridan, Iconic Voice of Boxing, Passes Away at 79
However, the excitement was short-lived as the British Boxing Board of Control (BBBofC) publicly announced that Fury remained suspended and would not be able to fight in May.
Kept From The Ring
The BBBofC's general secretary, Robert Smith, confirmed that there had been no contact from Fury or his representatives since the ban began in October 2016. Addressing the setback, Warren expressed his eagerness to see Fury back in the ring soon but acknowledged that there were a few issues to resolve. In addition to the dispute, a court hearing with UK Anti-Doping (UKAD) also still needed to take place. After a long and almost endless process, the BBBofC said they would consider the renewal of Fury's boxing license in January 2018.
Official Comeback
Honesty Is The Best Policy
Fury publicly disclosed his battles with mental health issues. He revealed the profound impact these struggles had on his life, both inside and outside the ring. His openness about mental health sparked conversations and shattered stereotypes, helping to destigmatize discussions about mental well-being, especially in the traditionally tough and hypermasculine world of professional boxing. He also underwent therapy and sought professional help to navigate the complexities of his struggles.
Physical Transformation
One of the visible manifestations of Fury's mental health battles was his fluctuating weight. His hiatus included a dramatic physical transformation as he shed excess pounds. This process was not just about aesthetics; it symbolized his commitment to regaining control over his life and career.
Return To Boxing
Fury's return to the boxing ring in 2018 marked a triumphant comeback. His victories in the comeback fights not only reestablished him as a formidable force in boxing but also served as an inspiration for many who were fighting their own battles.
Fury vs. Seferi: On May 20, 2018 Sefer Seferi was announced as Fury's opponent in a 10-round bout. Fury weighed in at 276 pounds, having lost an extraordinary 112 pounds for the fight, combatting the extreme weight gain he experienced due to his mental health problems. Fury won the fight after Seferi quit on his stool after round 4.
Fury vs. Pianeta: On July 12, 2018, the exciting news broke that Fury would be stepping into the ring with former world title challenger Francesco Pianeta (35-4-1, 21 KOs) on August 18th. Fury went the full 10 rounds and referee Steve Gray scored the fight 100-90 in favor of Fury.
Fury vs. Wilder: On September 22, 2018, Fury and Wilder confirmed they signed the contract for their fight. The anticipated showdown was set for December 1st, 2018. Wilder and Fury battled it out for 12 intense rounds, resulting in a split decision draw, meaning Wilder retained his WBC title. The decision was met with boos from the crowd, as many believed Fury had done enough to dethrone Wilder.
Fury vs. Wilder 2: Fury faced off against Deontay Wilder in 2020 and reclaimed the WBC heavyweight title by stopping the Bronze Bomber by TKO in the seventh round. Despite having a point deducted in the fifth round, Fury was dominating the judges' scorecards, with the TKO sealing the deal.
Fury vs. Wilder 3: An immediate rubber match was scheduled between the two heavyweights, and in October of 2021, the two clashed again in Las Vegas. Drama was definitely woven into the fight, as Tyson Fury tasted canvas not once, but twice in the fourth round, giving Deontay Wilder a 10-7 round on the judges scorecards. However, Wilder himself would be sent down to the canvas in the third, tenth, and finally the eleventh round where referee Russell Mora would call the fight off, and award Fury the knockout victory as well as the WBC World Heavyweight Championship. This victory was not just a sporting achievement; it symbolized Fury's triumph over personal demons and solidified his status as one of the greatest comeback stories in boxing history.
Advocacy for Mental Health
Fury's personal experiences motivated him to become an advocate for mental health awareness. He became vocal about the importance of seeking help, eroding the stigma surrounding mental health issues. His advocacy work extends beyond the ring to his hometown, his country, and throughout the world.
Family Support
Throughout his journey, Fury has credited the unwavering support of his family for helping him navigate the darkest phases of his mental health struggles. His openness with his loved ones and their support played a pivotal role in his recovery and resurgence.
Mental Health Initiatives
Beyond personal advocacy, Fury has actively contributed to mental health initiatives and created his own foundation called the Tyson Fury Foundation. He has supported organizations and campaigns that aim to raise awareness, eliminate stigma, and provide resources for those facing mental health challenges. He has also released a Netflix series that highlights the mental health challenges faces by Gypsy, Roma, and Traveller communities.
Related: George Foreman's Legendary Boxing Return From Retirement, Explained
As of now, Fury stands as a champion in the boxing ring and as a symbol of resilience and hope for those battling mental health issues. He continues to be an influential figure, using his voice to promote mental well-being and inspire positive change. From the pinnacle of the boxing world to the depths of depression, Fury's story is one of resilience, courage, and the importance of seeking help.
*** *** ***
[EDITOR'S NOTE: We also believe in Tyson Fury's mission, and wish to remind readers that if they or a loved one is struggling with a mental health disorder such as depression, anxiety, or schizophrenia, there are trained professionals whose sole purpose is to make you feel well again. You can begin your journey at the National Institute of Mental Health website. Our American readers can also dial 988 in times of crisis or suicidal ideation to reach a crisis counselor 24/7.]