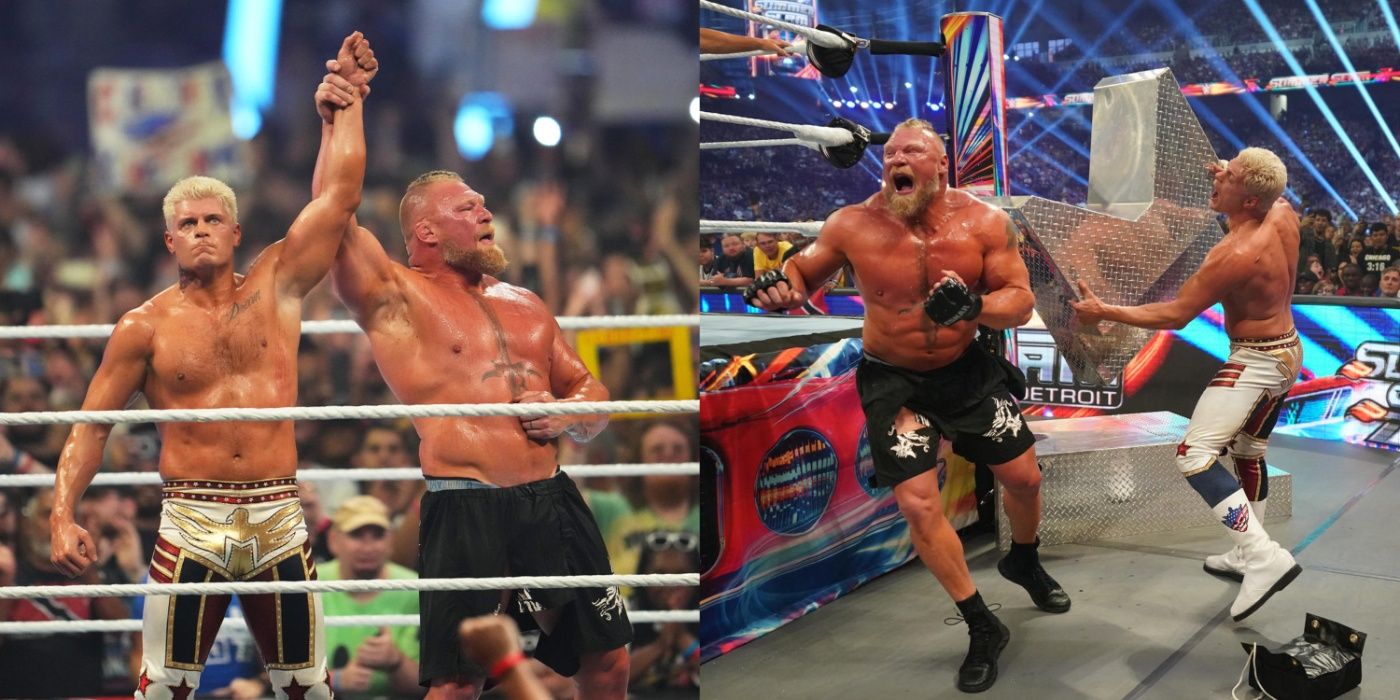 Brock Lesnar and Cody Rhodes had their third, and likely final, match at SummerSlam. As most fans likely expected, Rhodes won the match to break the tie, ending the series with two wins to Lesnar's one. Perhaps the most surprising part of the match was actually what came after. Lesnar got back to his feet, shook Rhodes's hand, and raised his arm. A moment Triple H has since revealed was not planned ahead of time.
Should Rhodes Have Been Disqualified?
A sign that Lesnar truly respects Rhodes, but some fans have pointed out why Lesnar would have been well within his right to be angry about losing the match. The Beast enjoyed the bulk of the offense as the early goings in the match were reminiscent of Lesnar's one-sided win over John Cena at SummerSlam 2014. It took a shove into the ring post and a hit with the steel steps to turn the match in Rhodes' favor.
RELATED: WWE Fans Still Unsure Why Brock Lesnar Attacked Cody Rhodes In The First Place
Pushing someone into the ring post is naturally fair game. No avoiding that, or easy to deny if a Superstar does it on purpose. However, the moment fans have taken issue with is the steel steps shot that came right after. The steep steps are a foreign object, and the match didn't have a no-disqualification stipulation, so the argument being made is that Rhodes should have been disqualified at that point with Lesnar winning the match.
Steel Steps Are A Grey Area
I have to admit, there was a moment when the steps connected with Lesnar and time felt like it stood still as I quickly looked at the referee. Obviously he didn't call for the bell and the match continued, eventually ending with three Cross Rhodes and a win for The American Nightmare. Had the match ended in disqualification when Rhodes used the steps, odds are not many fans would have been happy about it. It also would have hurt Rhodes' stock and potentially resulted in a fourth match between them.
The use of steel steps as a weapon has always been a point of contention in WWE. My thinking was always that if a wrestler was doing a move onto the steps it was fair game, but if they picked them up and exerted force, it's a DQ. I've definitely seen matches where the steps were used in a similar way to how they were in this match at SummerSlam and the action has been allowed to continue. I guess it's just a case of what's needed for the match and who's involved.