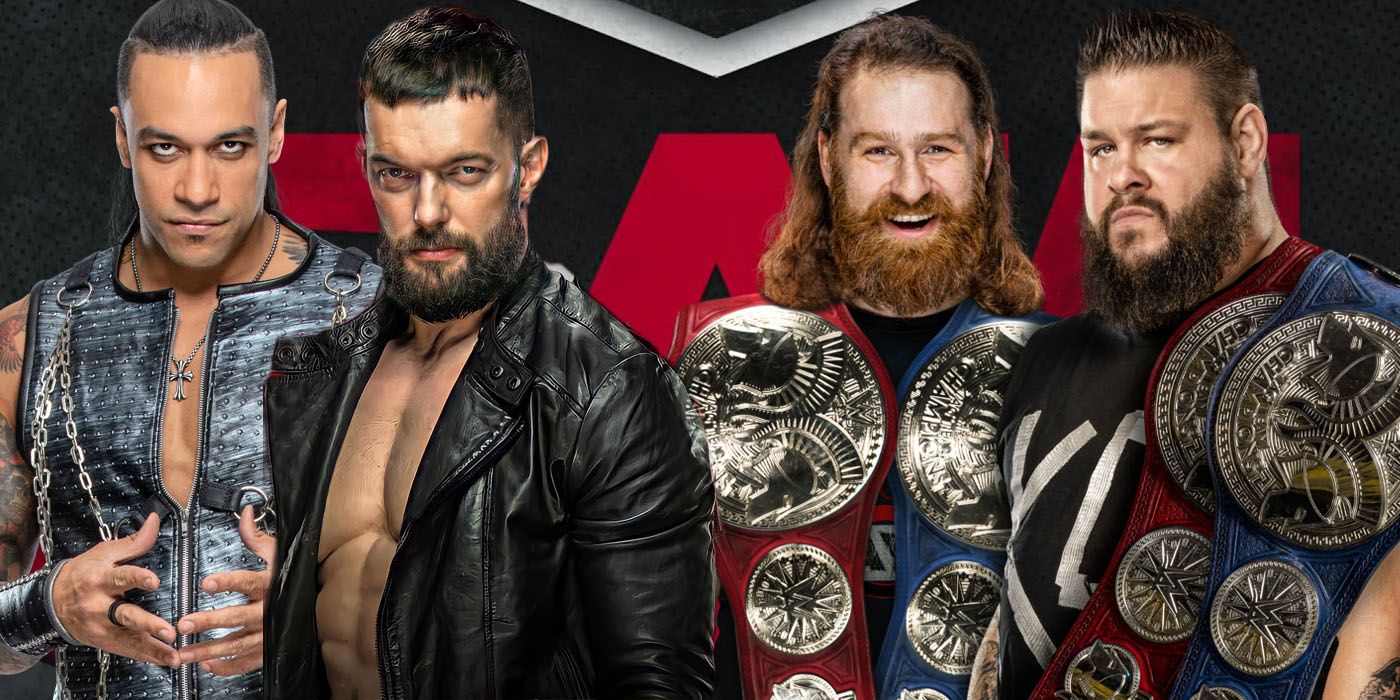 This week's episode of Mondays Night Raw took place in Quebec, Canada, so as expected, the show began with a segment featuring Sami Zayn and Kevin Owens. They pumped up the crowd and challenged Judgment Day to a match for later in the show. Also in action, Drew McIntyre and Riddle took on New Day, Chad Gable challenged for the Intercontinental Championship, Becky Lynch and Trish Stratus struggled, LA Knight appeared and Cody Rhodes sided with the hometown heroes.
Here are your winners and losers for Raw, August 21, 2023:
Winner: WWE Catered To The Quebec Crowd Early
Sami Zayn and Kevin Owens set the show off right by pumping up the live and French-speaking crowd. Judgment Day tried to surround him, but Zayn said he wasn't alone, bringing out the K.O. who returned from a short-term injury.
This was a simple, yet effective segment. WWE knew the crowd would pop huge for Zayn and Owens, which they did.
Winner/Loser: Viking Raiders Cost McIntyre and Riddle A Win
In an advertised tag match, Drew McIntyre and Matt Riddle battled New Day. This was a solid tag match that ended in a cheap way when Erik of The Viking Raiders appeared from under the ring and pulled McIntyre off the apron, forcing him to hit his head on the steel steps. That allowed Kofi Kingston to hit a Trouble in Paradise for the win. While New Day tried to celebrate, The Raiders attacked and took out the babyfaces. But, McIntyre got back into the fight and took out Erik and Ivar.
This was textbook booking that will likely lead to a Triple Threat Match. Everyone took a bit of a beating but McIntyre was booked as the top, most dominating powerhouse.
Winner: Chad Gable Versus Gunther
With only eight days to go until Gunther breaks the record for the longest reigning Intercontinental Champion, he would face Chad Gable in a title match. It seemed evident Gunther would retain, but the company decided to give Gable the win via count-out. This means the title didn't change hands, but it's clear a rematch is coming.
This match was incredible and selfishly, it's a real win that fans will see this again. Both guys are among the company's top workers and while their styles are different, it made for a great mix. Gunther was laying in the chops heavy, while Gable was showing his resilience and feats of strength.
After this bout, WWE scheduled two interviews: one pre-recorded by Shinsuke Nakamura and the other for the crowd with Cody Rhodes.
Rhodes conducted took over the interview with Byron Saxton and walked him out to chat with the Quebec crowd. Once there, he asked, "Que voulez-vous discuter?" (What do you want to talk about in French), elicited excitement from the Montreal audience. Nakamura disclosed to Rollins his awareness of his back issues and talked about how much the champion is in full-time pain.
Winner: Rhea Ripley vs. Candice LeRae
After clashing with Indi Hartwell recently, Ripley was set to face Candice LeRae this week. The encounter played out as most fans likely anticipated: Ripley overpowered her opponent and dominated the lesser-profile LeRae, who only managed occasional offensive moves. Ripley sealed the match with a submission hold, claiming victory. However, Raquel Rodriguez emerged, assaulting Ripley. She revealed her readiness and intent to challenge for the title at Payback.
Winner: Knight Distracts The Miz Into a Loss
The Miz came to the ring and announced that he was going to prove how good he was by beating someone bigger, stronger, and faster than anyone LA Knight had ever beaten. He brought out Akira Tozawa. They got into a verbal war of words where Tozawa pushed both Knight and Austin's catchphrases. Knight came to the ring to be part of commentary while the match was set to take place.
Knight babbled away on commentary and The Miz couldn't help but get distracted and cost himself a win. Knight then hit him with his finisher after the match was over.
While not great, the Tozawa stuff was passable and this was his first win on Raw in something like six years. That's something. Knight was hilarious at the announce table and The Miz played the bumbling idiot (as he always does) quite well.
Loser: Trish Stratus and Becky Lynch Segment
Starting with a boring promo by Becky Lynch, this segment only got worse when Trish Stratus joined the moment and tried to run down the Quebec crowd. Not smoothly getting out her first insult only led to more awkward moments, which coincidentally reflect this rivalry and the way WWE has booked it.
This Trish Stratus and Becky Lynch feud has been handled very poorly. The lack of creativity behind this feud is very disappointing, including the build-up to their cage match at Payback which feels thrown together. Fans on social media seem to universally have respect for both women, but can't wait for this misery to end.
Winner/Loser: Piper Niven Wins For Her Team
In their first match as women's tag team champions, Piper Niven destroyed Katana Chance and Kayden Carter when she got the tag and promptly ended the match with a splash. Chelsea Green had effectively been taken out of the match, so Niven carried her to the back.
It appears WWE is going to book Niven as an unstoppable force, while Green does little to deliver wins for the duo. It's an intriguing idea, with the only downside that a number of teams are going to look ineffective in the buildup of the new team.
Winner: Cody Joins Owens and Zayn In The Main Event
A tag match main event turned into a six-man bout when Cody came down to the ring to stop a post-disqualification beating by Judgment Day on Owens and Zayn. From there it was fairly academic as the hometown favorites along with The American Nightmare picked up the win. Cody hit a Cody Cutter onto Dominik, who then ate a Helluva Kick and a Stunner for the loss. Zayn spoke French to the crowd to close the show.
The one downside of all of this is that it appeared Owens might have suffered another legitimate injury. He was gingerly avoid raising his right arm and seemed to pull something in his abdomen. Let's hope it's nothing serious.